Legal aid: Commissioner says high quality services in Welsh must be retained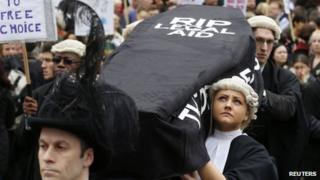 UK government plans to reform criminal legal aid should not downgrade services for Welsh speakers, says the Welsh Language Commissioner.
Meri Huws wants clarification, saying legal firms must be able to provide high-quality services in Welsh.
She was commenting on a consultation on plans to save £220m from the criminal legal aid bill.
The Ministry of Justice said bidders would have to meet standards conforming to the Welsh Language Act.
Ms Huws made her comments in her response to the consultation on the reform plans.
Proposals include stopping defendants with a disposable income of more than £37,500 from automatically receiving legal aid and curbing prisoners' right to legal aid.
"Advice deserts'
The consultation also paves the way for lawyers to compete for contracts.
In her comments, the Welsh Language Commissioner said the consultation document does not make it clear that adhering to the 1993 Welsh Language Act's fundamental principles will be essential when providing services, including services that are provided through competition.
She also writes that in determining the requirements of the proposed legal aid contracts relating to Wales, evidence should be sought of either experience or an ability to provide in Welsh, or both.
Plaid Cymru's parliamentary leader Elfyn Llwyd, a member of the justice select committee, welcomed Ms Huws' intervention.
He said it was not just a matter of the Welsh language, which in itself was extremely important.
"It's the service to the whole of the people of Wales, there'll be advice deserts throughout vast areas of rural Wales I can assure you," he told BBC Radio Wales.
'No mega firms'
Mr Llwyd, the MP for Dwyfor Meirionnydd, warned there would be "a race to the bottom".
"The consultation is based on asking people to put in a price which is 17% lower than current legal aid rates, which themselves have been pegged for the last eight or nine years.
"So it's uneconomic. Smaller firms will not even try because they won't be able to ensure the throughput, the bulk of the work, in order to make it pay in some way.
"There are no mega-firms in north or mid Wales. The larger firms from outside north or mid Wales might well be able to compete by, as I say, basing it on the use of paralegals - people who are not fully-qualified solicitors."
The Ministry of Justice said it does not comment on individual submissions while a consultation is open.
However, it said it is aware of the concerns around the Welsh language.
It stressed those considering a contract bid under the new system would have to meet quality standards before any assessment of cost, which would include the ability to meet the requirements of the Welsh Language Act.
There is more on this story on BBC Radio Wales' Eye on Wales programme on Sunday 2 June at 13:30 BST.