Suffragette Viscountess Rhondda's Newport bomb attack remembered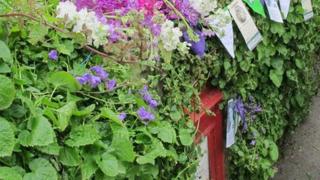 A suffragette has been remembered at a ceremony at a Newport post box which she attempted to blow up with a home-made bomb almost 100 years ago.
Viscountess Rhondda went to Usk prison after refusing to pay a £10 fine for the attack at the height of the women's rights campaign in June 1913.
On Sunday the post box she targeted was garlanded in the suffragette colours of green, purple and white.
The ceremony took place 100 years after fellow campaigner Emily Davison died.
Jayne Bryant, the organiser of the event at Risca Road, Newport, said: "We all owe a debt of gratitude to those who were part of the struggle for democracy, from the Chartists to the suffragettes.
"Viscountess Rhondda was a remarkable woman. She was at the forefront of the suffrage movement, both locally in Newport and nationally, and spent her life campaigning for gender equality."
She was sent to prison after posting the incendiary device which damaged mail. She would not allow the £10 fine to be paid by her husband, went on hunger strike and was eventually released after five days without food.
Viscountess Rhondda (Margaret Haig Mackwiorth) ran the Newport branch of the suffragettes, was a leading feminist and also combined her activism with a career as a distinguished journalist and business woman.
She was born Margaret Haig Thomas in 1883, the daughter of a Liberal politician with coal, shipping and publishing interests.
When she inherited her title from her father, women were not allowed to sit and vote in the House of Lords. But after basing a claim on the Sex Disqualification (Removal) Act of 1919, the Lords found in her favour.
However Lord Birkenhead, Lord Chancellor at the time, opposed the idea and succeeded in getting the decision reversed.
Lady Rhondda founded the feminist weekly magazine, Time and Tide, and helped to set up the Six Point Group, one of the first to campaign on women's issues, including equal pay and equal opportunities.
She lived to see the passing of the Life Peerages Act in 1958, but died before the first women took their seats as life peers in the Lords in October the same year.
In 2011 a portrait of the viscountess finally went on display in the House of Lords.
Newport West MP Paul Flynn, who was among those at Sunday's ceremony, said it was fitting that tribute should be paid to Lady Rhondda, "who has sadly been largely forgotten in south Wales",
He added: "I think it's a fabulous opportunity to commemorate 100 years of the part she played in the march for equality and the influence that has had throughout Britain."
This weekend also marks 100 years since suffragette Emily Wilding Davison ran onto the Epsom race course and was knocked to the ground by King George V's horse Anmer, and later died of her injuries in hospital.