April Jones murder: Web firms urged to block child porn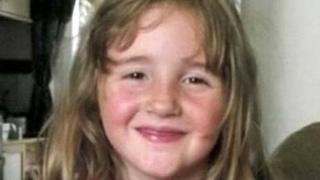 Internet providers around the world must "wake up" over images that show child sex abuse, says the south Wales police and crime commissioner.
Alun Michael says providers have to do more to restrict access to such images after Mark Bridger was jailed for murdering five-year-old April Jones.
His trial was told that he searched the web for child abuse and rape images.
Mr Michael's comments follow a similar warning last week by a government adviser on child internet safety.
John Carr said internet companies should block links which paedophiles use to find pictures of abuse.
Campaigners backed the call as Google said it had a "zero tolerance" policy to child sexual abuse content.
Bridger, 47, became the 37th person to be sentenced to a whole life term after he was convicted last week of killing April, from Machynlleth, Powys.
Speaking to the BBC's Sunday Politics Wales, Mr Michael said: "It is difficult for people to casually come across these images, however for those determined people who are still looking for this stuff they are still able to get to it."
Mr Michael, a former Home Office minister, said the UK had a good record on tackling images of child sexual abuse through the Internet Watch Foundation where the government, police and the internet industry worked together.
"It has to be said that the internet being worldwide, we need other countries to be doing what the UK is doing through the Internet Watch Foundation and we need all the providers to be doing more," added Mr Michael.
He said working in partnership was the way forward.
"I think some of the big companies really need to wake up and smell the coffee. I think it's important that they do engage and they do so quickly," he said.
"They can be part of the solution. If they don't become part of the solution then they become an obstruction.
"If they become an obstruction then the danger is that they will see national and international legislation which might not achieve what we want to achieve but could create difficulties for them."
Plaid Cymru MP Elfyn Llwyd backed the approach, and said: "Most of this filth comes from Canada and the United States and we need an international approach so that all governments take this responsibly, reasonably and urgently"
Labour AM Julie Morgan, who chairs the assembly's all-party group on children, said she believed that internet providers should be more pro-active.
"They must make sure that this sort of stuff is not available and I personally believe that any legal pornography should be accessed by registering and that would put a lot of people off," she said.