Sports accused of 'lack of respect' for Welsh language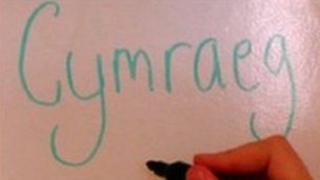 Some sporting bodies in Wales have been accused by pressure groups of failing to respect the Welsh language.
Thirty-seven of 42 national governing bodies, who receive public money, do not have Welsh language websites.
Out of the 11 bodies that received over £400,000 in the last financial year three have Welsh language policies.
The Welsh Sports Association, which represents the governing bodies, said most of them were seeking to increase the number of Welsh speaking coaches.
Pressure groups have told BBC Wales that governing bodies should do more to promote and support the language and have called on the Welsh government to intervene.
A spokesman for pressure group Dyfodol yr Iaith (A Future for the Language) said sport was one of the most important areas for the development of Welsh.
"Sport is especially appealing to young people and using the language in sports is key to ensuring that young people speak it outside school," he said.
"Several of the organisations concerned receive substantial public funding and it's wrong that they ignore the language in their activities.
"There is a need for the government to ensure that the language is being used extensively by organisations that receive public funding and they should question whether or not they should continue to receive funding if they do not use the language."
Robin Farrar, chairman of Cymdeithas yr Iaith Gymraeg (Welsh Language Society), said the behaviour of the governing bodies went against the Welsh government's language strategy.
The umbrella group the Welsh Sports Association said most governing bodies delivered the bulk of their activities through their clubs which were predominantly run by volunteers.
'Commitment'
"Club personnel tend to be drawn from the local community and their use of Welsh and English reflects that community," it said.
"NGBs [national governing bodies] are seeking to increase the number of Welsh speaking coaches available across Wales and some, including Swim Wales, Welsh Athletics, Welsh Netball and Badminton Wales, have run coaching awards in Welsh to encourage this.
"Many work proactively with organisations such as the Urdd to help find ways to increase Welsh Language provision in their sports."
Funding for these bodies is provided through Sport Wales, which has an obligation to ensure that both Welsh and English are treated equally by the organisations that they fund.
"At the end of the day the Welsh sports sector is responsible for the development of sport, not the development of the Welsh language, but clearly within our communities we want to see the language utilised because that can be a means to bring people in to take part in sport," said Sport Wales chief executive Huw Jones.
"I think if you purely look at people's commitment to the Welsh language in terms of whether it's a website or a policy then I can certainly understand that [frustration].
"But to me that's not what commitment to the Welsh language is fundamentally about, it's about utilising the language out in our communities as something that's living not something that's on a bit of paper."
BBC Wales also saw a letter written last year by the Welsh Sports Association as part of the consultation on new language standards.
The letter said: "The requirement to make provisions, in every case, to provide services through the medium of Welsh to anyone expressing a desire for such does not seem reasonable, and fails to acknowledge the financial and practical consequences."
Mr Farrar described the suggestion in the letter as "completely ignorant and offensive".
The Welsh Sports Association said concerns were expressed by its governing body members, many of whom were small organisations run entirely by volunteers, regarding the impact of the draft Welsh Language Standards consulted on last summer.
The Welsh government said: "Voluntary sector sports bodies have not been specified under the Welsh Language Act (1993) as bodies who can be required to have Welsh language schemes.
"We do however encourage all organisations to ensure Welsh language provision is available."