Asbestos NHS treatment cost recovery bill is postponed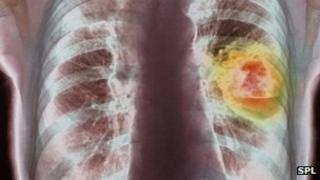 A bill which would recover the costs of treating Welsh asbestos patients from insurers has been withdrawn two days before it was due to be voted into law.
AMs were due to vote on Wednesday afternoon on whether the legislation, which could raise up to £1m a year for the Welsh NHS, should be passed.
The vote has now been postponed until the middle of next month.
The AM behind the bill, Labour's Mick Antoniw, has cited "technical reasons" for the last minute postponement.
Had a majority of AMs voted for it on Wednesday, it would have become law following Royal Assent.
The bill would have meant that insurers for those suffering asbestos-related diseases would have been liable to pay compensation towards their treatment by the NHS.
But there have been repeated questions about whether the bill is within the assembly's powers.
Presiding Officer Rosemary Butler certified in December that it was, but admitted it was a "finely balanced" decision on some aspects of the bill.
The Association of British Insurers (ABI) has written to her and the secretary of state for Wales with a number of what it calls "serious concerns" about the bill's lawfulness.
The association says that clause 15, which relates to financial services and insurance, is clearly outside the scope of the assembly's current powers.
Sensitive
The ABI also warns that, in its view, the bill would give Welsh ministers "a general tax raising power" which is outside the current devolution settlement.
This is because the legislation does not specify that the money raised must be spent on the NHS.
It is understood that the Wales Office has also asked for further information about the operation of the bill within the last couple of weeks.
Mr Antoniw's office said the Bill would now proceed to its final stages on 10 July.
The issue of whether an assembly bill is within the scope of its powers is a highly sensitive one after the first law passed after further powers were granted to Wales in 2011 was referred to the Supreme Court by the UK government.
The Supreme Court judges found after a two day hearing that the Local Government Byelaws Bill did come within the devolution settlement.