Sir Terry Matthews: Wales lacks IT commerce skills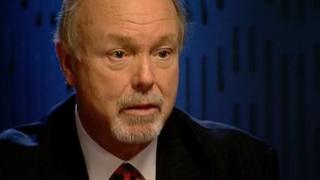 Wales lacks the business skills to make the most of technology ideas from the next generation of innovators, says billionaire Sir Terry Matthews.
The industrialist, who made his fortune in hi-tech firms, is to address a conference in Newport on how businesses can use IT to boost profits.
He said: "We don't lack people who are innovative. What we lack is turning that into a commercial operation."
Sir Terry thinks Wales could add £1.5bn to its IT sector value over five years.
He will be a keynote speaker at the Digital 2013 conference at his Celtic Manor Resort on Tuesday.
More than 1,200 business and individual delegates were expected to attend the two-day event, which began on Monday.
Sir Terry, Wales' first billionaire, last year launched his own mentoring scheme, the Alacrity Foundation, for young entrepreneurs in the hi-tech sector.
He has also urged business leaders in Wales to pass on their experience to new graduates, to give them skills for dealing with the business world.
The conference's literature claims businesses could bring a further £1.5bn into the Welsh economy over five years if they make the most of advances in digital technology.
It said "effective utilisation of digital technologies has never been as important for enterprise, jobs, and growth".
Cash call
Speaking ahead of his address, Sir Terry said his foundation had five teams of young graduates working on new technology ideas.
He said: "Our hope is that, with guidance, they will end up having very significant technology companies and employ a lot of people.
"We don't lack well-educated people and we don't lack people who are innovative. What we lack is the commercialisation.
"As an example, where's the venture capital?
"My sort of thing here is, if you can tease people with a little cash and people with a lots of experience into being mentors or board members and better still investors, then you get a lot of support [for entrepreneurs]."
Other speakers at the conference include digital industry expert Ken Segall, who created the "i-name" style of branding for Apple computer products.
Another is Dr Ian Pearson, who invented text messaging and is now a "futurologist," predicting how technology will affect our lives in coming years.
Born in Newport and raised in Newbridge, Sir Terry helped secure the 2010 Ryder Cup golf tournament held at the Celtic Manor, the hotel resort which he developed in the city of his birth.