Smokers not wanted at playgrounds in Swansea, Neath Port Talbot, Bridgend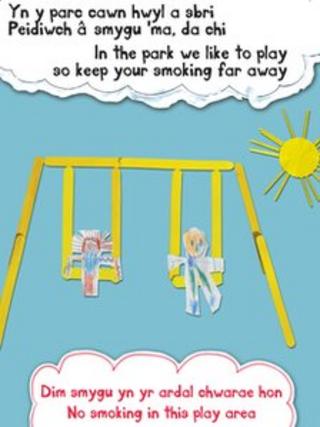 Smokers will be urged not to light up around children's park playgrounds in Swansea, Neath Port Talbot and Bridgend as part of a campaign.
The move by the three local councils would take the number of authorities which have launched similar campaigns to six.
Caerphilly was the first of the 22 councils to take similar action, with Powys and Gwynedd following.
Anti-smoking charity Ash Wales says it hopes more councils will follow suit.
Although councils cannot ban smoking, youngsters have already designed a poster discouraging smoking. This will be going up at park play areas over the coming weeks.
Swansea council cabinet member June Burtonshaw said: "Children are much more likely to grow up as non-smokers if their parents don't smoke or those that do give up now.
"So this new campaign is aimed at urging parents to do the right thing, not just for their own health, but for their youngsters' health too.
"We won't be banning parents from smoking at children's play areas but what we're hoping is that in combination with the notices we're putting up parents who smoke will think twice."
She added: "Second-hand smoke causes health problems like cancer and heart disease just as much as smoking does.
"And in these days when people are having to cut back, giving up smoking can do wonders for the bank balance as well as people's health. There's probably never been a better time to give up."
Ash chief executive Elen de Lacy said Swansea, Neath Port Talbot and Bridgend would provide safer environments for children to play as a result of the campaign.
"Children and young people have a right to play and meet with their friends in a clean environment free from second hand smoke and cigarette litter," she said.
"Smoking in family-friendly places such as playgrounds also creates the impression for them that it's a harmless activity but the reality is that smoking kills more than 5,000 people a year in Wales."
'Follow the lead'
A survey by Yougov in 2013 for Ash Wales revealed that 77% of Welsh adults now believed that smoking should be banned in areas where children play.
Ms de Lacy added: "We want to see smoking banned in every play area in Wales and we urge other councils to follow the lead."
The Welsh government previously said it would work with local authorities on introducing smoke-free playgrounds.
Neath Port Talbot council, which runs 42 playgrounds in the area, said that while no legislation has been created that would ban smoking it hoped the majority of people would read the signs and not smoke in front of children.
Phil White, Bridgend council's cabinet member for communities, said the authority maintained around 110 playgrounds and play areas and hopes to roll the initiative out across all of them.
"As well as protecting children's immediate health and cutting back on smoking-related litter, we want to encourage children not to grow up under the impression that smoking within a family-friendly environment is entirely normal or healthy behaviour," he added.
"With smoking already prohibited within public buildings in Wales, this is the logical next step in encouraging more people to live healthier, smoke-free lives."