April Jones parents make web child abuse clampdown call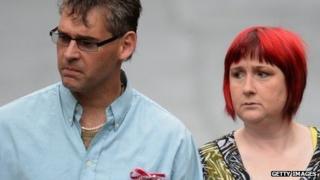 The parents of April Jones say they want to change the law to stop people being able to access websites which show indecent images of children.
Paul and Coral Jones have called for a system which sends out an alert if people are viewing such images.
Their five-year-old daughter was abducted and murdered by paedophile Mark Bridger from outside her home in Machynlleth, Powys, last October.
Bridger's trial heard he had searched online for child abuse and rape images.
The couple were interviewed on ITV's This Morning programme.
Mrs Jones said: "If I can save somebody with a law changing the internet, if it saves one [child] it would be better than none. I'd like to do it in April's name."
Her husband said he believed Bridger's online hunt for child abuse images on the day April was abducted was a "significant factor" in his motivation for the attack.
The couple said they had met Sara Payne, a high profile campaigner against paedophiles following the murder of her daughter Sarah, who had agreed to help their campaign.
'Spinning lies'
Mr and Mrs Jones spoke of their anguish on the night April was abducted and said the situation had been very confusing.
They went out to search with a friend in their car and said at one point they were just one-and-a-half miles behind April.
Mrs Jones said: "If we knew what vehicle we were looking for..."
Asked at what point they knew their worst fears might be realised, Mrs Jones said it was when police found her blood in Mark Bridger's house.
She also said it was difficult for them hearing more pieces of evidence coming from police, such as finding bone fragments and his knives.
Mr Jones said: "The hard part about it is that, because we had so much evidence and the police had kept us so well up to date, is that we have a good idea what happened - and then he's just spinning lies to fit the situation.
"It was hard to listen to that because he was talking about April, how he tried to help her, [resuscitate] her, how she was crushed and he couldn't remember what he had done with her.
"It sends shivers up your back."
Mrs Jones said: "He was calling her 'little April'. He had no right to call her 'little April'. He just lied and lied."
While community leaders have called on Bridger to reveal where April's body was, the couple said they would not themselves ask him what he did with their daughter.
They said they would not want to give him that satisfaction and to think he had a hold over them.
Mrs Jones said: "He had all that time with the police and in court to tell us and hasn't, and I don't think he ever will."
The couple said they wanted to hold some kind of funeral or memorial service for April and hoped to be allowed to bury the fragments of bone found in Bridger's house.