Stephen Fry depression disclosure praised by Plaid AM Bethan Jenkins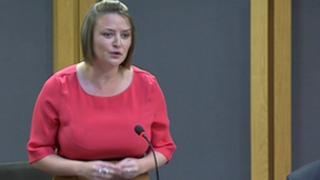 A Plaid Cymru politician has spoken about her "battle with depression" after Stephen Fry discussed his bipolar disorder and suicide attempt.
Welsh assembly member Bethan Jenkins said she had been in denial about her illness, which led to her ban for drink-driving in Cardiff last year.
The South Wales West AM told BBC Radio Cymru she "totally regretted" the drink-driving.
Ms Jenkins said she entirely understood Stephen Fry's comments.
In March she was censured in the Senedd for bringing the assembly into disrepute.
"I can empathise totally with Stephen Fry," she told Taro'r Post. "One moment you are up there on a total high... the next minute you don't want to speak to anyone," she said.
"Depression is an illness that is misunderstood even by close friends and relatives.
"Some would tell me to keep my chin up... but it's not as easy as that.
"The most important thing a sufferer can do is speak openly to someone... that's a crucial first step... and that can be very hard."
She said that as a public figure it had been difficult to talk publicly "about my battle with depression".
She told listeners: "I was also wary of speaking publicly because I felt some people would say that I was attention seeking.
"I was in denial regarding my illness, and put all my effort into working hard professionally.
"Unfortunately this led to that incident last year that I totally regret."
She added: "I have learnt my lesson and it's been heartening to see people come up to me and tell me that they back me because I am a 'real' person with difficulties."