Carwyn Jones warns cuts needed in 'unprotected' budgets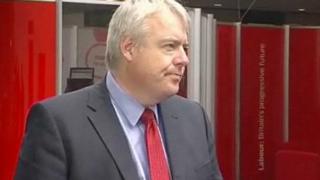 Labour will need to find more spending cuts to deliver manifesto pledges, First Minister Carwyn Jones has warned.
Ministers are holding fortnightly meetings to "forensically" examine their budgets, with extra cuts possible during this financial year, he said.
Protected areas, including schools, health and universal benefits such as free prescriptions, would be spared.
He told a media briefing in Cardiff other areas of his ministers' spending "can be regarded as unprotected".
He said the Welsh government faced a "very stark reality surrounding difficult financial decisions".
Cabinet ministers were holding fortnightly sessions where budgets were being "scrutinised in forensic detail, quite literally line by line".
He was confident Labour could deliver the commitments it made in its 2011 assembly manifesto.
"However, it's also clear in order to achieve this it's going to take some serious financial discipline and a whole new approach on cross-portfolio working," Mr Jones said.
'Enough is enough'
He added: "We can't exclude in-year budgets cuts this year."
He pleaded with Chancellor George Osborne, who will deliver his spending review later this month, not to impose further cuts on public spending in Wales.
"Enough is enough," the first minister said.
His commitment to maintaining universal benefits, which are free to everyone regardless of income, follows recent announcements by the Labour opposition in Westminster about plans to restrict some benefits.
This month it said it would not reverse cuts to child benefits and would cut winter fuel payments to richer older people.