New vaccines for children and OAPs introduced in Wales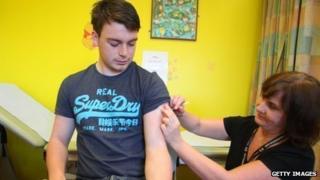 Babies will be vaccinated against a bowel infection and toddlers given a flu vaccine as part of immunisation changes being introduced in Wales.
Over-70s will also be immunised against shingles and the Meningitis C second dose will be given in adolescence instead of at four months.
Health Minister Mark Drakeford said the public should be given the best protection against infectious diseases.
He added lessons had been learned from the Swansea measles epidemic.
Mr Drakeford said the outbreak, which has so far affected more than 1,700 people, proved the need for an effective immunisation programme.
He said changes to Wales' immunisation programme would include:
Withdrawing the second dose of Meningitis C, currently given at four months, and replacing it with a dose in adolescence. This will start in June.
Introducing a vaccine - in the form of oral drops - to protect babies and young children against rotavirus, a common bowel infection which can require hospital treatment and can lead to severe symptoms including diarrhoea, vomiting, stomach cramps, dehydration and mild fever. This will be introduced in July.
Starting a routine shingles vaccine programme, starting with people aged 70. There will be a gradual catch-up programme implemented, started with 79 year olds.
As part of the 32013-14 seasonal flu campaign, two and three year olds will be vaccinated with a nasal spray. Children in Year 7 at secondary school will also be vaccinated through the school nursing service. This would be administered every year.
Children up to nine years old who are considered 'at risk' from flu complications will need a second dose of the flu vaccine from their GP, unless they had already had the vaccine in previous years.
Outlining the plans during a debate on the measles outbreak in the Senedd, Mr Drakeford said: "After clean water, vaccination is the most effective public health intervention in the world for saving lives and protecting people against disease."
"The recent measles epidemic is a clear illustration of why an effective immunisation programme is needed."
He added: "I am sure we all agree that learning from the outbreak is an important process so that we can be confident that the public continues to be offered the best protection available against infectious diseases."
The Swansea epidemic has been put down to a low uptake of the MMR (measles, mumps and rubella) jab in the area following a now-discredited report that linked the vaccine with autism.
Following a high-profile immunisation campaign, more than 60,000 vaccines have now been given to children and adults across Wales who were not protected against measles.
Health experts says a record number of two year olds have now had the vaccine.
Public Health Wales added that the target of 95% for children aged two to have the first MMR dose has been met.
But it wants to boost uptake of the second dose in five year olds from 90% to 95%, warning parents not to be complacent.
It also warned that vaccination levels in the generation of children and young people between 10 and 18 are still too low.