Cancer: Waiting time target 'should be 10 days' says minister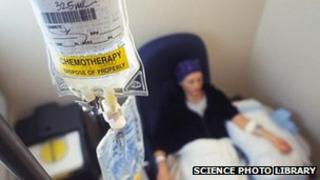 People suspected of having cancer should be seen by a specialist more quickly and health boards need to ensure this happens, say ministers.
The Welsh government says it expects patients should be seen within 10 working days.
It said this makes it more likely patients will start treatment within the target time of 62 days.
In May, BBC Wales reported that waiting time targets for urgent cancer cases in Wales are still being missed.
The Welsh government target is for 95% of patients to see a specialist in 62 days. The latest figure is 84%.
Health Minister Mark Drakeford said his expectation that people suspected of having cancer were seen by a consultant in 10 days was an "interim milestone".
He said: "While the vast majority of urgent referrals are seen within the 62-day target, the NHS has struggled to meet the requirement to see 95% of all referrals within that time frame.
"Analysis of waiting times performance shows that if the first outpatient appointment takes place after 10 days, then the NHS is playing catch-up in terms of meeting the overall target.
"If the NHS focuses on ensuring that as many patients as possible are seen within 10 working days, then it makes meeting the target more achievable."