Snowdon: Nine walkers rescued from ridge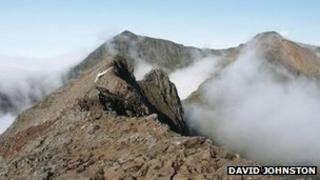 Rescuers have urged walkers to plan properly after a group of nine had to be rescued from a ridge on Snowdon.
The party from Southport, Merseyside, who were part of a larger group, were brought down from Crib Goch just after 20:00 BST on Wednesday.
In another incident a boy of 16 and girl of 15, from Warrington, were helped by another hiker.
Rescuers said both incidents were unnecessary with "pre-planning and thought".
The walkers had been stranded after cloud descended on Crib Goch.
Llanberis and Aberglaslyn mountain rescue teams were called after an RAF helicopter was unable to reach them.
The walkers had been among a group of 17 with the rest being able to descend the mountain safely.
Phil Benbow, from the Llanberis team, said: "Thirteen were inexperienced walkers.
"They felt Crib Goch would be a challenge for them and it was certainly more than that. It was absolutely the wrong choice."
'Unnecessary job'
Mr Benbow said rescuers had to go up the peak in "fairly appalling" weather of low cloud, wind and rain.
Rescuers had also been alerted after two teenagers became separated from their school party at the summit of Snowdon, after they went up via the Pyg Track.
They were helped when another hiker came across them.
"They were prepared for a nice summer day," said Mr Benbow.
"Both jobs were unnecessary with pre-planning and thought.
"Our message to people is think about what you are going to do," he added.