Joshua's Wish: Teenagers try to save Australia trip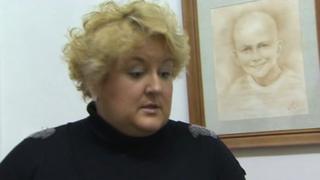 A group of teenagers whose trip to Australia was cancelled after the collapse of a Welsh charity are trying to organise an independent trip.
Around 30 young people and their parents affected by the closure of the Joshua's Wish met in Newport to try and salvage parts of the holiday.
All of them raised £3,000 to go on the trip which involved conservation work and visiting terminally ill children.
But some say they cannot afford to pay more money for new accommodation.
Insolvency practitioners handling the charity's affairs said flights had been paid for but not accommodation.
Earlier this year a BBC Wales investigation revealed the charity owed up to £400,000 to Her Majesty's Revenue and Customs.
The debt had been on the charity's account, formerly known as The Joshua Foundation's, since about 2003/04.
Most of those at the meeting in Newport on Friday evening were from south east Wales but some had come from Nottingham, Bristol and Gloucester.
The young people and their parents say they are angry they were not warned of potential problems.
The money they raised was for their flights, accommodation and conservation work in Melbourne and Sydney.
They had also paid extra for the charity to organise travel insurance, visas, uniforms and excursions, such as a walk over Sydney Harbour Bridge.
'Very stressful'
But they were devastated after finding out earlier this week that the charity had closed and that the trip was cancelled.
Many, who are currently in the middle of sitting A-levels, were looking forward to the two-week trip after they finish their exams.
Some say they have been able to retrieve their flight tickets from the airline company but most other things which they believed had been paid for have not been organised.
Anna Griffin, 17, of Newport, organised the meeting on Friday with about a dozen other young people who were due to go on the trip from the south east Wales area.
"We're getting together to see if we can salvage anything and I've researched some hostels we could stay in," she said.
"It's all very stressful because I'm right in the middle of my A-level exams.
"Unfortunately there's not many of us who can still go to Australia as I have heard from a lot of people who can't because it will be too expensive.
"It will be a lot to pay more money again for things."
Her father, Michael Griffin, said he was annoyed at the situation and questioned why they families were not given any warning that there may be problems with the charity.
"We went to a meeting just a few weeks ago and paid more money for the coach to Heathrow - surely they knew there was trouble then," he said.
Lucy Roberts, 18, from Merthyr Tydfil, is also hoping to make it to Australia and says she is in a better position than many of the others as she has family there she can stay with.
"It is very upsetting. We're now just trying to help each other out because there's not much information we can get about all of this," she added.
Thousands owed
The insolvency consultants, Burton Sweet Corporate Recovery in Bristol, confirmed on Wednesday that Joshua's Wish has ceased operating because of its liabilities.
The Joshua's Wish founder, Sarah Cornelius-Price, said that the debt was from mistakenly claimed gift aid.
She set up the charity just before her son, Joshua, seven, died from cancer in 1998. When the charity was founded it offered trips, holidays and experiences for sick young people.
Speaking in January, Mrs Cornelius-Price said the charity's subsequent gift aid claims were being retained by HMRC towards offsetting the debt. She said at the time that she soon hoped to settle the outstanding debt.
Commenting on the Australia trip, the appointed insolvency practitioner, Graham Down said on Wednesday: "We are trying to establish the position but it is unlikely that it will go ahead."