Food for thought as Welsh producers look to diversify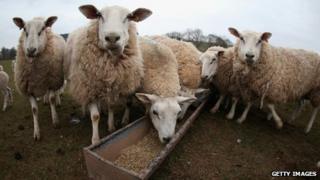 With around 230,000 working in the food and drink industry in Wales, Sarah Moore looks at the challenges of getting more products onto tables here, as part of the BBC Wales' What's Wales Worth? series.
Owned by the National Trust, the Llanrhidian salt marsh on the Gower peninsula is of international importance for its wintering wildfowl and waders.
When the tide is out, the award-winning Gower Salt Marsh lambs also graze here. The meat they produce is said to be sweeter, thanks to the fescues grass, samphire, sorrel and thrift that grow on the marsh.
Wales has 8.8 million sheep, three times more sheep than people. Welsh Lamb remains the symbol of traditional Welsh farming. Together with Welsh beef, the combined value of red meat to the Welsh economy is a £1bn a year, according to the Flying the Flag report published this month. The export value alone of red meat and hides was £218m in 2012.
Fierce
But farmer Rowland Pritchard, from Gower Salt Marsh Lamb, is just one Welsh red meat producer who opted to sell his lamb in a different way.
"It started off about eight years ago," he said. "We were selling lambs on the traditional market and we were making £20, it was ridiculously low money.
"We had a niche product anyway, so we thought we'd enhance the proceeds from this lamb by selling it straight to the public as Salt Marsh lamb, rather than letting it get all mixed in with all the other supermarket lamb."
It is just one example of how Welsh food producers are choosing to add value to their products.
Two years ago, the Welsh Food and Drink Skills Project discovered some interesting statistics when it surveyed around 2,000 employers, employees and training providers across the industry.
Sian Roberts-Davies, who works for the EU-funded project, said: "37% of the businesses we spoke to are expanding or diversifying. For food producers, they could be looking at adding value or looking to sell directly to the public.
"We're looking at 230,000 people employed across the food and drink supply chain, which equates to 18% of the Welsh workforce. That makes it the single largest employment sector.
"There are 27,500 businesses, with an annual sales revenue of £6.5bn."
Earlier this year Business Minister Edwina Hart attended one of the biggest food exhibitions, the International Food and Drink Event in London, where Wales had its biggest ever presence.
"Food is a priority for the Welsh government and we are supporting the industry to develop and move in positive new directions," she says.
The Middle East and Asia are seen as growing markets for Welsh produce.
But competition remains fierce and not all food and drink businesses survive.
The Food Centre Wales in Horeb, Carmarthenshire, is just one centre that is helping Welsh food producers to develop and move forward, through their expertise in food technology.
Director John Davies believes the days of relying on food from around the world are over. Wales needs to be able to feed itself.
"I think the time of cheap exports with low fuel prices, to travel products around the globe is coming to an end, so it is important that we are self-sustaining in the food that we produce," he said.
In the last year, food charities like the Trussell Trust, the Caernarfon foodbank, the Towy community church in Carmarthen, the Cardiff foodbank and Patch in Milford Haven have all reported huge increases in demand for emergency food aid.
But Mr Davies believes that with a little more diversification Wales can produce all the food it needs.
"It's not as easy any more to import from any part of the world, because there's a growing world population, and we must make sure that the consumer in Wales has the opportunity of having food grown close to home, but we need to extend our variety," he added.
"We cannot live on milk and lamb alone."
One sector that Mr Davies thinks has potential for growth is Welsh seafood but it needs to be made more accessible.
In 2010, Jonathan Williams started the Pembrokeshire Beach Food Company by selling his own brand of '"street food" seafood at local farmers' markets.
He has since won four British Street Food awards, and has had stalls at the Hay Festival and at the London Olympics. Later this month, he will be at Glastonbury.
He has a food shack overlooking the beach at Freshwater West, where he collects the seaweed for his speciality laverbread wraps.
"I love seafood and I remember being really frustrated growing up in Pembrokeshire, never having access to seafood," he said.
"You go to a local pub or restaurant and the price of lobster could be so expensive, £25 just for a simple meal, that it's almost elitist in the way that they treat some of the local products.
"Traditionally in Britain it's been about Cromer crab, or Norfolk crab, or lobster from Scotland but in my eyes I think the crab and lobster we have down here is the best in the country."
Economic shifts in the Eurozone may lead to changes in the way we currently export Welsh seafood, just as the economic climate is influencing what we choose to eat closer to home.
There is no doubt that food and drink are of enormous value to the Welsh economy, and to the thousands of people the industry employs, but perhaps more importantly, we all need to eat.