Knighthood for Wales' richest person Michael Moritz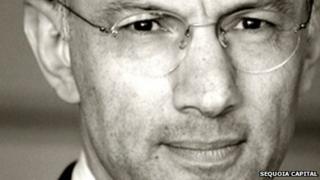 Wales' richest person has received a knighthood in the Queen's Birthday Honours list.
Cardiff-born Michael Moritz said he was "thrilled" by the recognition for promoting UK economic interests and philanthropic work.
Last year the billionaire donated £75m to Oxford University, where he studied, to help disadvantaged students.
Sir Michael, who lives in USA, made his fortune by investing in internet companies including YouTube and PayPal.
He told the BBC he was "startled and flattered" by the news of the honour and "thrilled to be considered a productive British export."
Sir Michael added: "My personal circumstances have been defined and shaped by where I started in Wales.
"The United Kingdom gave my parents and other family members a refuge from evil and without that I wouldn't be here and none of this would have happened."
According to this year's Sunday Times Rich List, he was the 70th richest person in the UK.
The 58-year-old has been made a Knight Commander of the British Empire (KBE), which can be given to Britons based abroad or in an honorary capacity to foreign nationals.
Sir Michael attended Howardian High School in Cardiff before graduating in history at Christ Church College, Oxford in 1976.
Soon after leaving university he headed to the USA where he worked as a journalist for Time magazine before joining venture capital firm Sequoia Capital, where he is now chairman.
The father-of-two spotted the potential in what were then little known companies such as Google and YouTube, which was bought by Google for $1.65bn in 2006.
Sir Michael gave the founders of YouTube rooms at Sequoia's offices as they attempted to work out how to share videos in the company's early days.
He has said it amused him they never made it to work before lunchtime.
In 2003, Sir Michael invested £2.89m in business networking site LinkedIn, and when it floated on the New York Stock Exchange in 2011 that stake was worth more than £900m.
But it is his philanthropy that has been recognised. He donated £75m to his former university last year as part of a scholarship programme to support students from the lowest income families.
The university said it was the "biggest philanthropic gift for undergraduate financial support in European history".
Sir Michael said part of the reason behind his donation was that he went to an "ordinary comprehensive school" and was the only pupil in his year to attend Oxford.
Prof Andrew Hamilton, vice-chancellor of the university, said: "Launched last year, the Moritz-Heyman scholarship programme will eventually provide generous financial support for up to 300 Oxford students from household incomes of below £16,000 every year.
"We are grateful to Michael Moritz and Harriet Heyman for their visionary philanthropy and we congratulate Michael on his latest honour."
Sir Michael has said he would not even be here today if it were not for the "generosity of strangers".
His father had been "plucked" from Nazi Germany and able to attend a good London school on a scholarship, before going on to study at Oxford.
Sir Michael has committed himself to giving away at least 50% of his wealth and has given millions to his former Oxford college.
He announced last year he had been diagnosed with a rare medical condition which could be managed but was incurable.