Wales honours: Kirsty Williams AM 'honoured' by CBE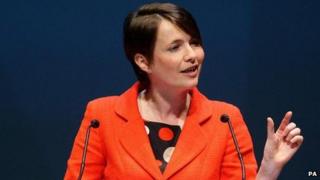 Welsh Liberal Democrat leader Kirsty Williams has described receiving a CBE in the Queen's birthday honours list as a "great honour".
But the AM for Brecon and Radnorshire said she was sad her late father would not see her receive the award.
Ms Williams, who has led the party in Wales since 2008, is honoured for political and public service.
Other honours in mid Wales include a British Empire Medal for a retired teacher.
There is also an MBE for a man behind one of UK's first kerbside collection schemes.
Born in Taunton, Somerset, in 1971 to a librarian from Llanelli and a housewife from Swansea, Ms Williams grew up in Brynea in Camarthenshire from the age of three.
She was educated at the village primary school and then St Michael's School in Llanelli.
She went on to study at Manchester University and the University of Missouri, before working at Carmarthenshire College and for a small business in Cardiff as a marketing executive.
She was elected Brecon and Radnorshire's AM in 1999.
"This really was a surprise to me," said Ms Williams, a mother of three, in reaction to receiving the honour.
"To be awarded a CBE is a great honour and one which I am delighted to receive.
"I would like to thank everyone who has encouraged me over the years. In particular, I'd like to thank my family, who have been an immense support to me.
'Sadness'
"My only sadness is that my father will not be here to see me receive this as I know how much it would have meant to him."
Ms Williams said she joined the Liberal party when she was 15 because she "passionately wanted to change things".
Her award follows a CBE for Brecon and Radnorshire's Liberal Democrat MP, Roger Williams, in the new year's honours list.
There is an OBE for BBC comedy producer Gareth Gwenlan, 76, originally from Brecon, Powys, but now living in Herefordshire.
He said the two most memorable series he worked on were The Fall and Rise of Reginald Perrin and Only Fools and Horses.
The latter, written by the late John Sullivan, had stood the test of time as it is endlessly recycled on digital television channels, he said.
"I was watching an 20-year-old episode the other day and I thought how clever it was. John Sullivan was such a great talent.
"As well as being so well observed, it is so rich, which is why it has survived so long."
Other people in mid Wales honoured in the Queen's birthday honours include the deputy mayor of Presteigne Colin Kirkby, who has been awarded an MBE for services to the environment and to the community in Powys.
As a part-time recycling officer with Cardiff council he was at the forefront of promoting recycling - introducing one of the UK's first kerbside collection schemes.
He also set up and ran the Small Town Recycling Programme in Presteigne in 1987, which contributed over £28,300 to local projects and won six national awards.
He was chair of Cylch, the all Wales community recycling network, and has been chair of the Presteigne Zero Waste Project, raising £170,000 for it.
The 61-year-old father-of-three, who has also been mayor of the Powys town five times, said: "I'm delighted and honoured to have been recognised for my environmental work.
"Presteigne is a wonderful community and this award reflects not just on me but all the local people who have supported me. It's been a shared effort."
Linda Games from Llangynidr, near Crickhowell, receives the British Empire Medal for her services to the community.
'Confidence'
Mrs Games, 83, was deputy head of Llangynidr Primary School for 35 years and is still a community volunteer.
She is a pianist, organist and she has been a Sunday school teacher at Sardist Baptist Chapel since 1944.
"I was absolutely flabbergasted when I discovered the news because I've received an honour for something that I've enjoyed doing," Mrs Games said.
She plays the piano for the Phoenix singers, a 70-strong mixed choir from near Abergavenny. She also accompanies her husband John who sings.
"My parents bought me a piano when I was 11 or 12 years old and soon afterwards I started playing in the chapel on Sunday," she added.
"People have given me the opportunity to do these things and have had more confidence in me that I've perhaps had in myself."
Margretta Lynnette Jones is another teacher who has been honoured.
The head teacher of Llangors Church in Wales Primary School, near Brecon, receives an OBE for services to education in Powys.
Josephine Anne Davies, of Aberystwyth, is awarded an MBE for services to the Women's Institute and to the community in Ceredigion.
Gwilym Thomas Evans, from Caersws, near Newtown, also receives an MBE for services to the community in Powys.