Plea over abuse on Bridgend train by men dressed as golfers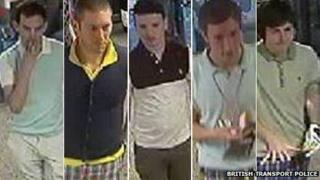 A "drunk" gang dressed as golfers subjected a family to a "torrent of abuse" on a train journey say British Transport Police.
Detectives have appealed for help in tracking down the group of 10 suspects from CCTV footage.
Three females from three generations of the same family were travelling back to south Wales from London on 18 May.
The incident happened on a First Great Western train between Cardiff and Bridgend between 20:50 and 21:14 BST.
"Three women were travelling home from a weekend away in London when a group of men, all aged in their early 20s, boarded the service at Cardiff Central," said Sergeant Nick Brown, of British Transport Police.
"As soon as they entered the carriage, the men - all of whom appeared to be drunk - became abusive and were shouting loudly.
"When challenged over their behaviour and asked to mind their language, the men subjected all three victims to a barrage of abuse and vile language."
He said all the men were dressed in golfing clothing and left the train at Bridgend.
Sgt Brown added: "I am very keen to trace these men as we believe they may all have information which could assist the investigation.
"This was an extremely distressing and intimidating experience for the victims."
British Transport Police said anyone with information should contact them on 0800 405040, quoting background reference B6/WCA of 14/06/2013.