Gwent Police: Man's body found on Severn estuary banks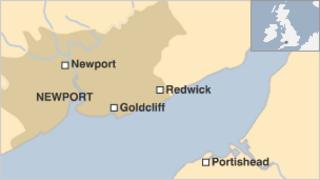 A man's body has been discovered on the banks of the Severn estuary in the Newport area, say Gwent Police.
It is understood a member of the public raised the alarm at around 10:20 BST after making the discovery between Redwick and Goldcliffe.
Gwent Police Insp Huw Jones: "We are waiting for the body to be formally identified and it is believed to be a 54-year-old man from the Cwmbran area."
He said the man's family were being supported by trained officers.
Insp Jones added: "The death is not being treated as suspicious and the coroner has been informed."