Iron Maiden star Bruce Dickinson air firm's £5m boost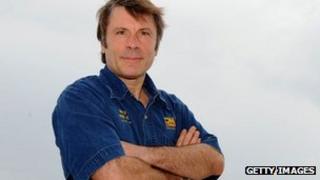 An aerospace company set up by Iron Maiden singer Bruce Dickinson is making a £5m investment in its site in the Vale of Glamorgan.
Dickinson made the announcement at the Paris Air Show while taking a brief time out from the band's European tour.
He and business partner Mario Fulgoni opened Cardiff Aviation at St Athan's Twin Peaks Hangar last year.
Dickinson said the money, a combination of government and private finance, was "a huge investment" in the site.
The Welsh government's small business subsidiary Finance Wales has invested £1.6m, with the remainder of the money coming from the owners and private backers.
Dickinson, a qualified commercial pilot, told BBC Radio Wales: "This is a huge investment in the future of Cardiff Aviation and the St Athan aerospace site that we're developing.
"Finance Wales have taken a 25% stake in our company for £0.5m and we've further secured a £1.2m loan which will enable us to upskill our existing employees and hire more staff and equipment."
He said their maintenance hangars were full for the next couple of months and the business was reaching a "tipping point".
"At St Athan we've got a fantastic facility which we are turning into what could best be described as a one-stop shop for aviation and in particular lease companies aeroplanes.
"In other words you can bring your wide-bodied or narrow-bodied aircraft and we will be able to do the big heavy C checks [detailed inspection] on it.
"We are developing a paint facility and we are also developing training and operational capability there as well. So in other words you can bring your aeroplane to us and we'll be able to operate it for you, train pilots to fly it, paint it, do the interior on it, overhaul it and even park it and store it if required until somebody can find a a use for it.
"And if you can't find a use for it we'll even lease it out to customers on your behalf. So that is a total vision, if you like."
The company was still aiming for its target of hundreds of employees, according to Dickinson.
"What I always said was that if we hadn't got a couple of hundred people in employment by this Christmas then we were probably doing something wrong and I stand by that figure," he said.
Technical equipment
"We've got about 60 or 70 at the moment working on the site so now we've got the money in in terms of uptake so I expect we'll be hiring another couple of shifts fairly soon."
The company will appoint a commercial director as part of the expansion.
Mr Fulgoni added: "This is a key investment which will allow us to expand the senior management team, and enable us to establish European Aviation Safety Agency (EASA) Part 21 Design Approval to join the list of maintenance and operational approvals and certification the Cardiff Aviation group already possesses.
"This means Cardiff Aviation Limited will be permitted to manufacture and certify aircraft parts alongside our maintenance and training operations, thereby providing us with a full opportunity to exploit the range of technical equipment and expertise we acquired in taking over Twin Peaks from the RAF, and in establishing Cardiff Aviation."
Jeff Cuthbert, the Welsh government deputy minister for skills and technology, said the investment sent out a strong message of confidence in the St Athan-Cardiff Airport enterprise zone, which was established as one of five such zones in Wales last year.