Wales child abuse: Justice Macur holds first Wrexham meeting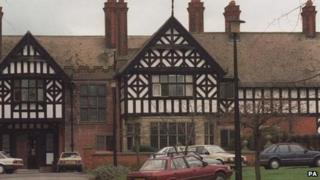 The first public meeting hosted by a judge leading a review of the Waterhouse inquiry into abuse at north Wales children's homes has been held.
Mrs Justice Macur is holding sessions in Wrexham for people to provide evidence relating to the inquiry, which began in 1996.
Almost 20 people attended the first meeting at the Ramada Plaza hotel.
The Waterhouse report examined the historical abuse of victims in former care homes.
However, there are claims it uncovered only a fraction of the abuse.
Following the first session, Mrs Justice Macur and other members of the review team made themselves available to speak to members of the public in private.
A second public meeting will then take place at the hotel at 18:00 BST with private meetings again available afterwards.
Mrs Justice Macur told those attending the first meeting it was very much a "listening exercise".
Media representatives were not allowed to take notes during the session or report anything that was said by any of those attending.
The judge had said: "I consider it to be extremely important to make myself and my team available in a venue local to the events and circumstances which led to the Waterhouse inquiry to meet with and hear from the people who were directly or indirectly involved and wish to impart information which may be significant to my review.
"It is vital to engage directly with those affected by the issues central to my review."
Sir Ronald Waterhouse's inquiry was ordered in 1996 by then Welsh Secretary William Hague, and his report was published in 2000.
It examined the abuse of victims in former north Wales care homes such as Bryn Estyn in Wrexham dating back to the 1970s.
However, a victim has claimed the inquiry uncovered just a small amount of the alleged abuse.
Mrs Justice Macur's independent review was ordered by Justice Secretary Chris Grayling last November, and she will report back to him.
The review will examine the scope of the Waterhouse inquiry and whether any allegations of child abuse were not investigated.
In addition to Mrs Justice Macur's review, an independent investigation into claims of historical child abuse at children's homes in north Wales is also ongoing.
Home Secretary Theresa May ordered the inquiry - Operation Pallial - following a Newsnight report in November, that as well as leading to a Tory peer being falsely accused of paedophilia, alleged that child abuse in north Wales in the 1970s and 1980s was far more widespread than had previously been investigated.
In April, Operation Pallial investigators, which include the National Crime Agency, said they had found "significant evidence of systemic and serious sexual and physical abuse".
The team said there was evidence of 140 allegations of historical abuse between 1963 and 1992, and 76 new complainants had come forward.
The claims centre on 18 homes involving offences against boys and girls aged between seven and 19.