'Cut a third' of 22 education services in Wales, report says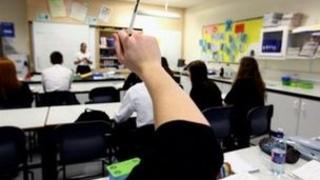 The 22 education services running schools in Wales should be cut by a third, a review has recommended.
From 2014, education would then be run by regional consortia with council leaders among their board members.
In his report, Robert Hill, who was an adviser to former Prime Minister Tony Blair, says "new slim line elected local authorities" could run education.
Schools inspectorate Estyn says council education staff are spread too thinly and cannot offer specialist help.
Nearly a quarter of education services in Wales either are or have been placed in special measures - and deemed not up to scratch - by inspectors.
The report by Mr Hill says "the fact that there are so many small local authorities is a major contributory factor".
The review states: "Despite this there has been a reluctance by local authorities to consider joint appointments of directors of education services and/or merging services.
"The Welsh Local Government Association (WLGA) has itself recognised that 'the system is underperforming and that is unacceptable and unsustainable'," the report says.
But the review also warns that the performance of four educational consortia already working across local authority boundaries was "too variable".
Mr Hill's report says the organisations' leadership arrangements "are not working properly", partly because "the wrong people have been recruited into the role, and in part there is confusion about what the job is about".
The review says it would be a "distraction" to reorganise local government in an attempt to improve school standards.
'Real urgency'
"In the medium term a complete reorganisation of local authority education functions and boundaries is required, as part of the more general review of the governance and delivery arrangements of public services in Wales, in order to realise this strategy.
"The focus must be on bringing clarity to the existing system, consolidating the number of education services and ensuring that all the consortia are operating as effectively as possible as quickly as possible. There is real urgency on this issue."
Education Minister Leighton Andrews described the options in the report as "compelling" with "the potential to change the shape and structure of education delivery in Wales for the better".
He said: "I've been very clear in my desire to raise standards and performance in education across the board.
"If we are to deliver the improvements in education that we know are needed we must not only focus on outcomes for learners, but we also have to achieve organisational coherence and excellence.
"I'd like to thank Robert for this comprehensive and exacting report," Mr Andrews added.
The report was welcomed by the National Association of Head Teachers (NAHT), which said there was "barely a soul left in Wales" who still believed the 22 local education authorities could bring the improved education standards needed.
NAHT Cymru director Anna Brychan said: "We have never favoured the complete removal of local accountability for school standards.
"We are pleased that these options recognise the importance of the 'middle tier,' albeit with far greater, and welcome, clarity about its roles and responsibilities."
David Evans, Wales secretary of the National Union of Teachers (NUT), promised to work constructively with Welsh ministers on measures in the report it could support.
"Where there are proposals that we believe will have a negative impact on the ability of teachers to do their jobs, and deliver the education standards required by students, we will be making that position equally clear," Mr Evans added.
A three-month consultation will be held on the proposals.