Cardiff Coal Exchange: Council to do emergency safety work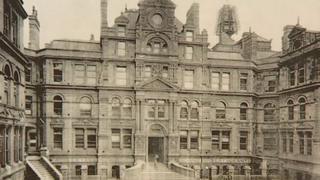 Emergency work will be carried out on the historic Coal Exchange in Cardiff Bay to make it safe.
Cardiff council said the building was in such disrepair it had to step in.
Structural repairs will be carried out on the north and east façades and the main hall cannot be used for events because emergency exits are affected.
Owner Macob Exchange said it was working with the council to give a positive future to a building once at the heart of the world coal trade.
Construction group Macob had originally shut the Coal Exchange in Cardiff Bay in 2007 for a revamp which did not go ahead.
Last year the firm was allowed to extend its 2006 permission for 116 apartments, two restaurants, shops and office space.
The Grade II* listed site has been used for live music and other events since the hall was reopened in 2009.
Wayne Rees, the Macob Exchange Ltd technical director, said a structural report found work was needed to "make safe the facade on the north and east sides of the building... which unfortunately affects the emergency exit points from the main hall".
He said this meant that operations by Coal Exchange Ltd - which held a lease for running events in the main hall - would stop.
Twelve tenants on the other side of the building have separate access, so will not be affected, he added.
"In the meantime, our responsibility is to our existing tenants but we are also co-operating with the council to address any health and safety concerns around the building as a whole," he added.
Cardiff council finance cabinet member Russell Goodway said public safety was the priority.
"The Coal Exchange is unquestionably one of the most important buildings in Wales," he said.
"As the centrepiece of the international coal trade and business community in Cardiff for 75 years it was at the heart of Cardiff's development, and is as important to the city as the castle or City Hall.
"But it's been neglected, and has now reached a state of such disrepair that public intervention is required."
Alternative venues are being sought for events due to take place in the Coal Exchange hall this summer.
Nerys Lloyd-Pierce, the chair of Cardiff Civic Society said buildings such as the Coal Exchange form a key part of the heritage of Cardiff and Wales.
She added: "Given the costs and responsibilities involved with the ownership of listed buildings, they frequently become commercially unviable as a result of market failure.
"This is sad, as their loss will lead to the deprivation of the ability of our local communities and future generations to fully understand their built environment and their history. "
She said it was vital that owners take responsibility for their buildings.
"The Coal Exchange is not alone in its plight, however. Many buildings surrounding it suffer similar fates," she added.