Anglesey: BBC presenter Rhun ap Iorwerth seeks Plaid nomination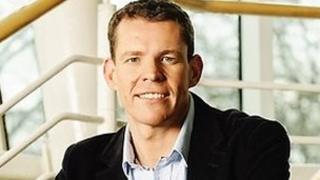 A BBC Wales news presenter is hoping to stand as Plaid Cymru candidate in the Welsh assembly Anglesey by-election.
Rhun ap Iorwerth, who presents Newyddion9 on S4C is seeking nomination in the seat vacated by Ieuan Wyn Jones.
BBC Cymru Wales said: "In the interests of impartiality, Rhun ap Iorwerth has stepped down from his BBC role with immediate effect.
"We'd like to thank Rhun for the contribution he's made to the work of BBC Cymru Wales."
Heledd Fychan, who stood for Plaid in Montgomeryshire in the 2010 general election and on the north Wales list in the 2011 assembly election, has also announced she is seeking the Anglesey nomination.
Ann Griffith, a Plaid county councillor on Anglesey, is another declared contender.
A selection meeting to choose the prospective candidate is due to be held in Llangefni on Thursday.
Mr Jones, the former Plaid leader, has stood down from the assembly with immediate effect to lead the new Menai Science Park.
On Wednesday, presiding officer Rosemary Butler set the date of the by-election as 1 August.