Geoffrey Sturdey: Four in court on burial charges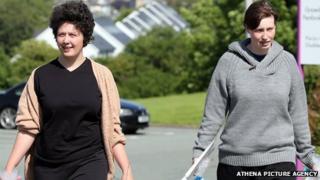 Four women have appeared in court at Haverfordwest charged with preventing the lawful and decent burial of a man.
Geoffrey Sturdey of Beth Berith, Tregaron, Ceredigion, was 60 when he disappeared in October 2008.
His widow Rebekah Sturdey, 56, originally from Iran, and Boque Ore Adie, 43, originally from South Africa, are also charged with benefit fraud and were remanded in custody.
Ms Adie's daughter Hazel, 20, and Karmel Adie, 24, were given bail.
All four are from Beth Berith, Tregaron.
They were arrested by Dyfed-Powys Police after a Department for Work and Pensions investigation.
The two older women are also charged with fraudulently claiming Mr Sturdey's disability living allowance and pension credit, totalling more than £61,000, until March 2012.
The body of Mr Sturdey was found by police buried on land at Beth Berith.
An initial post mortem examination found that he had died of natural causes.
All four defendants are due to appear at Swansea Crown Court on 5 July.