Rarely spotted albino jackdaw at Aberglasney Gardens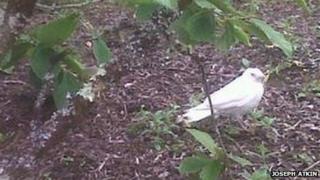 A rarely spotted albino jackdaw has been sighted at heritage gardens in Carmarthenshire.
The pure white visitor was snapped at the weekend by the head gardener at Aberglasney Gardens, Llangathen, who at first thought it was a dove.
The RSPB says albinism only occurs when a bird inherits the gene from both parents.
Survival rates for albino jackdaws, normally black, tend to be lower and so they are only rarely seen.
Head gardener Joseph Atkins at Aberglasney said: "I was quite taken aback by the pure white bird which at first I thought was a dove.
"When I realised that it was in fact an albino jackdaw I quickly took a picture on my mobile. I've certainly never seen one before."
The RSPB website states albinism describes birds in which "some or all of the normal pigmentation is missing".
It is most often inherited, but can be caused by other factors such as poor nutrition or shock.
"There are different degrees of albinism, ranging from all white to only a few white feathers on an otherwise normal coloured bird.
"True albinos are normally less robust in other ways and often have deficient eyesight and hearing.
"They rarely survive for long, and therefore are only rarely seen," it adds.
Dr Ian Johnstone from RSPB Cymru said: "A tiny proportion of wild birds have abnormal feather colouring, often making them more conspicuous.
"Although such unusual individuals are rare, they are of no conservation importance compared with birds whose whole populations are declining such as curlew or yellowhammer."
The bird - which had been called Gwyn (white) by garden staff - has subsequently died, believed to have been attacked by other birds overnight.