'Surprise' as one in three north Wales hospital jobs are unfilled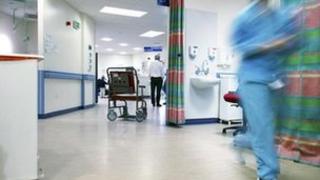 Almost a third of NHS jobs advertised in north Wales remain unfilled, according to latest figures.
North Wales assembly member Antoinette Sandbach said she is "very surprised" at the numbers of vacancies at Betsi Cadwaladr health board (BCUHB).
This is despite on average 30 people applying for each of the 2,940 jobs advertised.
BCUHB said many of the posts were "highly specialised" and some were hard to fill.
Empty positions range from consultants to call handlers.
BCUHB runs hospitals including Ysbyty Gwynedd in Bangor, Glan Clwyd in Denbighshire and Wrexham Maelor.
Of the 2,940 posts advertised, 875 remained unfilled.
Over the last year, a six month sample of 783 vacancies at BCUHB showed there were 23,942 applications submitted - an average of 30.6 for each job.
Conservative AM Ms Sandbach obtained the figures after a Freedom of Information request.
She said: "I was very surprised when I was told the numbers of unfilled vacancies
"It must be costly for BCUHB to identify, draw up the job specification, advertise for a role then interview candidates, and to then leave the post empty.
"I am sure that there were suitable candidates for these unfilled roles. I can only sympathise with these job seekers for their wasted time, chasing a job they could do, only to fail to be appointed. I would like to know from BCUHB just why they weren't offered the post."
Ms Sandbach feared leaving posts empty was part of cutbacks.
She said: "I have nothing but admiration for those working in the NHS but understand how difficult they must find trying to do their jobs, plus carry the work of those posts left unfilled, it can only lead to longer waiting lists and bed blocking."
The figures also showed a third of the jobs filled - 1,113 - were internal appointments.
Ms Sandbach added: "Any large organisation needs to constantly bring in fresh talents to remain dynamic to changing demands for its services and to ensure it taps into the latest knowledge."
BCUHB spokesperson said the health board employed a wide range of staff groups many of which are highly specialised.
The spokesperson added: "While it is possible to recruit to the majority of posts, we have a number of posts which are hard to fill and may not attract suitably qualified applicants. This is particularly the case for medical staff, where there are UK wide shortages in some specialties.
"Data on vacancies was supplied to March 2013 but clearly posts advertised at the end of this period will not have been filled during that time.
"There are a number of service changes being undertaken within the health board and posts are advertised internally to ensure that experienced staff are redeployed to other roles."
Figures could not be provided to break down how long the posts remained vacant for.