Cyclists' epic ride in memory of marine Paul Woodland from Penarth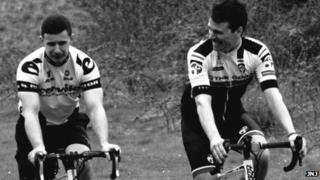 Four friends will ride 4,000 miles (6,400 km) non-stop across the United States in memory of a Royal Marine killed when his speedboat capsized.
Paul Woodland, 32, from Penarth in the Vale of Glamorgan, died in training last October.
Brothers Scott and Rhys Jenkins, Ross Stephenson and Lewis Earls, all from Penarth, will ride from Seattle in the north west to Florida in the south east.
They aim to finish in eight days.
The four will leave Seattle's Discovery Park on Monday and finish at the US Air Force Station in Key West a week later.
The ride is in aid of the Royal British Legion.
Along the route, the men will pass through Yellowstone National Park in Wyoming, the Rocky Mountains, Phillipsburg in Kansas, and Lake Wales in Florida.
Brothers Scott, 32, and Rhys, 25, are both keen endurance athletes and have been training hard.
Rhys Jenkins said: "I've been trying to find the steepest hill in south Wales. I get up at 5.30 every morning to train and do reps up and down Caerphilly mountain before work. After work I go for a run."
Mr Jenkins said remembering Mr Woodland was "a fighter" would keep him going.
He said: "Nothing feels better than knowing that you were able to help someone less fortunate than yourself. The challenge is a bittersweet one for us and the reason for doing it is one I wish neither of us had."
'Physical and mental strength'
During the journey, two members of the team will take it in turns to cycle for 90 minutes for 12 hours before swapping with the other two.
They will be accompanied by a seven-seater support car driven by Terry Jenkins, father of Rhys and Scott, and a food vehicle supplying them with plenty of energy-rich food, such as pasta.
Mr Woodland's closest friend and cycling novice, Ross Stephenson, 32, said it will be a true test of physical and mental strength.
He said: "The furthest I've ridden so far is 108 miles. I've been feeling pretty good and I'm looking forward to getting out there."
Mr Stephenson, a car salesman, has tried to prepare himself for cycling in the middle of the night.
He said: "When I started training it was winter and it was getting dark very early on in the evening - there's not much else you can do."
Scott Jenkins said: "I just hope that by doing something that tests us even more so than each of our previous challenges, the little added extra of sleep deprivation, that it might just encourage people to dig deep and donate to Woody's charity."
Later this year a former Royal Marine from Colwyn Bay will row across the Atlantic in another charity fundraiser.