Crash victim Anthony 'Punk' Hutchinson gets multi-million pound payout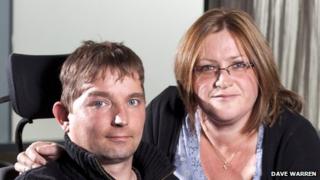 A man who needs round-the-clock care after suffering serious injuries in a road accident has received a multi-million pound compensation payout.
Anthony 'Punk' Hutchinson, 34, from Aberporth, Ceredigion, was driving a car hit by a cattle trailer towed by a Land Rover in Pembrokeshire in 2009.
Mr Hutchinson, a father of one, suffered multiple brain and body injuries and was left in a wheelchair.
His wife Jo said the award meant they could now re-build their lives.
A spokeswoman for the legal team said the payment determined at the High Court in Birmingham was a "substantial seven-figure payment" but the exact amount was being kept private at the family's request.
Mr Hutchinson will receive a lump sum, and six-figure annual payments to cover ongoing care costs.
Mr Hutchinson was giving his brother a lift on the B4329 New Inn to Brynberian road on his way from Cardigan to Haverfordwest in November 2009.
He received brain, cranio-facial, spinal, abdominal, upper and lower limb injuries.
'Life-changing impact'
His wife Jo Hutchinson said: "We're pleased with the ruling and happy that we can now concentrate fully on re-building our lives.
"The value of the settlement reflects not only the catastrophic nature of the injuries Punk received when the cattle trailer collided with his vehicle, but also the life-changing impact that these injuries have had for Punk and ourselves.
"Despite the good progress he has made with his rehabilitation, Punk will spend the rest of his life in a wheelchair. As a result of Punk's ongoing problems, he will need 24/7 care for the rest of his life.
"No amount of money can make up for the impact the accident has had on our family but the settlement eases financial worries about the ongoing costs of his care and means we can turn our attention to the future."
His wife thanked legal and medical staff for their help, adding: "While the whole ordeal has been incredibly stressful, Punk's spirit and determination have been an inspiration to us all.
"We all wish we could turn back the clock but our family and friends have been amazing and I'd like to thank them all for their support - we couldn't have got to this point without them."