BMA reports GP workload fears over vacant posts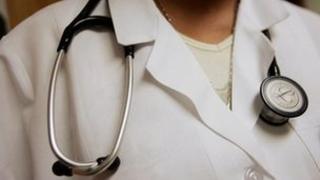 GP surgeries are struggling to fill vacant posts and the number of consultations they have to deal with are on the rise, it is claimed.
A snapshot survey of GPs in Wales by the British Medical Association (BMA) found the quality and number of people applying for jobs fell over five years.
Rural areas suffered most, with applicants put off by stress, leading to a growing workload.
The Welsh government said it was committed to addressing concerns.
Just over 12% of the 1,367 GPs invited to complete the BMA survey responded.
Almost half of those did not think there are enough GP training places in Wales and a quarter said they have at least one unfilled vacancy in their practice.
Over half felt the quality of applicants had dropped over the last five years while the majority raised concerns over the quantity.
Dr David Bailey, chairman of the BMA's GP committee for Wales, said it was adding to the pressure on family doctors.
He said: "I think workload is getting higher. Consultation rates are going up by 4% a year.
"Over the last 12 months we've noticed we've been seeing more people and the biggest reason is the age of the population."
Dr Bailey said more GPs were needed to cope with the demand but added that newcomers see the stress their colleagues are under.
"People coming to the profession at the bottom are seeing that and it becomes a less attractive option," he said.
"We've had people anecdotally saying they find it so stressful they don't really want to go into it."
'Addressing concerns'
Dr Bailey said the problem affected the NHS all over, not just in Wales, and said there were steps in the meantime that people could take to help ease the pressure on GPs.
They include calling NHS Direct or visiting a pharmacy before making a visit to a GP.
A Welsh government spokesperson said: "Clearly, given it's such a very small sample, any findings or trends that have been extrapolated from such a survey have to be viewed with caution.
"The fact is, the Welsh government works closely with the BMA in Wales and past surveys have indicated that, overall, GPs in Wales are satisfied with their working practices.
"We are committed to addressing concerns about GP workload and excessive bureaucracies which may be detrimental to patient care and fully acknowledge the importance and the need to improve integrated health and social services, particularly in primary and community care, to meet people needs."