Spending review: What it means for Wales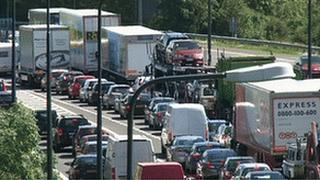 With so much anticipation about the chancellor's spending review the announcement on Wednesday will be all about balance and proportion - how much George Osborne is cutting.
It also means how much money he wants to spend on big projects to get the economy expanding to create jobs and more consumer spending.
The message that we have heard for months from the UK government is that there is no Plan B and that reducing the deficit is the road to economic recovery.
So how will the £11.5bn in cuts fall? If it were to be divided across all departments it is a cut of about 2.3%.
But spending levels for departments like welfare, health and education are protected so that means a greater share of cuts will fall on other departments.
Local government is expected to face some of the biggest cuts in the money they need to run services.
The money that comes to Wales from the Treasury arrives as a lump sum and the Welsh government can then decide how it spends that.
So on the other side of the balance sheet - what about projects to kick start the economy?
The employers organisation CBI is calling for the chancellor to propel what it calls "the fledging recovery", saying building projects - such as houses and roads - are the answer.
Accidents, queues and chaos in the Brynglas tunnels on the M4 at Newport are a message to business that Wales is a risky place to invest, according to business groups.
Emma Watkins, director of CBI Wales, says road investment is the "biggest priority" for the organisation.
"[It's] something we've been talking about for an awfully long time, as have governments at both ends of the M4.
"It's quite a good example of exactly the kind of strategic, forward-looking thinking we need here in Wales to take us forward as an economy.
"It will help bring business to Wales, help get people to work, and it'll show Wales is open for business."
Chris Sutton, Wales regional director of the commercial property company Jones Lang LaSalle, says problems on the roads lead to the impressions that build up about a place - such as when people hear of congestion on the main route into Wales from the south.
"We've all seen the news about accidents in the Brynglas tunnels and if you are looking to come to Wales then that's a real negative.
"If you are trying to locate a business there isn't much difference between say Cardiff and Newcastle, so you don't need much to tip the balance."
After George Osborne has made his announcement - and beyond the politics - there will be much discussion about what the cuts and spending mean for Wales.
With 30,000 civil servants in Wales, there are of course the possible direct impacts on their jobs - but there are also many private companies in Wales who supply or work for the UK government.
A growing sector is highly skilled electronics and technology - which now includes 600 firms in Wales employing 24,000 people.
Some of those work in the defence industry - which has faced and is still facing cuts worldwide - but have increasingly moved into other areas of work.
Chris Meadows, a board member of hi-tech producers' network Estnet, says firms like his own IQE in Cardiff are learning to adapt their work to civilian uses.
"It's a fairly young industry so it's quite agile and tends to move from military applications to commercial applications," he says.
"One example of that is infra-red sensors, which obviously have military applications for night vision but they also have commercial applications as people are starting to buy infra-red sensors to look at heat loss and where they need insulation in their homes."
Not every workplace is able to adapt like that, but many businesses and organisations will be wondering how much they are going to have to change to survive while the search for economic growth continues.