Leighton Andrews: Plain-speaking minister never afraid of battle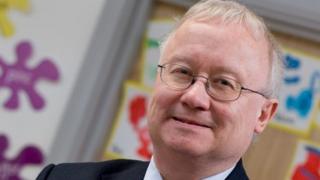 Leighton Andrews was one of the Welsh government's highest profile ministers known for a robust political style.
He became education minister in December 2009 after leading Carwyn Jones' successful campaign to replace Rhodri Morgan as Welsh Labour leader and first minister.
Mr Andrews soon turned his attention to reforming Welsh universities, telling leaders of smaller institutions in forthright terms that they had to follow Welsh government policy and merge.
Other parts of the education sector also came under fire. He told local education authorities they were not doing enough to improve schools and ordered a review into the way education services were delivered.
His decision to order a regrade of GCSE English papers in 2012 put him at odds with the UK Education Secretary Michael Gove, leading to the prospect of separate exam systems for England and Wales.
Mr Andrews was elected as assembly member for the Rhondda in 2003, taking the seat from Plaid Cymru.
He became deputy minister for social justice and public service delivery at the beginning of the next assembly in 2007 and was then made deputy regeneration minister when the One Wales coalition government between Labour and Plaid Cymru was announced in July 2007.
Cardiff-born Mr Andrews has a background in campaigning and was head of public affairs for BBC between 1993 and 1996 before running his own public affairs company.
He had a leading role in the 1997 devolution referendum campaign, and as an assembly member led a high profile yet ultimately unsuccessful campaign to save the Burberry factory in his constituency.