Ex-Rhymney teacher Emma Ager struck off after sex with pupil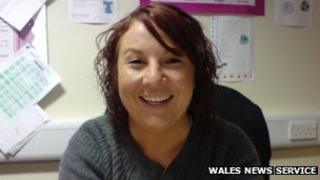 A teacher who had sex with a 16-year-old boy pupil in her car after school has been struck off indefinitely for misconduct.
Emma Ager, 34, had a two month relationship with the boy, a General Teaching Council for Wales (GTCW) professional conduct committee heard.
The English teacher was banned from the teaching register indefinitely in any state school in Britain.
The boy was at Rhymney Comprehensive in Caerphilly county at the time.
Referred to as Pupil A, he told the hearing that his relationship with Miss Ager in early 2008 began after a friend managed to get hold of her mobile phone number.
His friend rang the English teacher from Pupil's A phone as a prank - but she rang back.
Pupil A said: "We chatted and she put a bet on me not being able to keep up with her during sex."
The former pupil, who is now 22, said he told Miss Ager he was a 16-year-old pupil at her comprehensive school and studying for his GCSEs.
He said: "She said as long as I kept quiet everything would be OK.
"Following this we would meet up daily or every other day.
"We would meet up an hour or two after school and drive and have sex in her car. We would drive to a secluded spot near a factory.
"We only ever had sex in her car.
"She said if people did find out I would be a legend. It continued for two months.
"It was common knowledge among pupils in the school but I don't know if the teachers knew. I left a short time after it ended."
The hearing was told Miss Ager had been teaching for two years at Rhymney Comprehensive when she began having sex with the pupil.
He told the panel she bombarded him with phone calls and sexual text messages during their relationship.
The pupil said he ended it to get back with his ex-girlfriend.
The hearing was told Pupil A's mother found out her son was getting inappropriate phone calls and texts from Miss Ager.
She told the school about the calls from Miss Ager but she did not know it was a sexual relationship.
The panel heard the nature of the relationship was discovered when school staff went on a safeguarding course - and told council officials about rumours of the affair between teacher and pupil.
GTCW presenting solicitor Martin Jones said Miss Ager was called into a meeting with her head teacher about inappropriate contact with Pupil A.
Mr Jones said: "As a result of that she offered her resignation and it was accepted.
"She left the school a short while later."
Miss Ager was found guilty of unacceptable professional conduct and falling short of the standard expected of a registered teacher by having an inappropriate and sexual relationship with a 16-year-old pupil.
She was not at the disciplinary hearing and has failed to answer the charges.
Miss Ager was prohibited from the teaching register indefinitely in any state school in Britain.
Panel chairman Steve Powell said: "This is necessary to protect pupils and maintain public confidence in the teaching profession.
"Miss Ager has shown no insight into her failings."
Head criticised
The then headteacher Meredydd James was accused of giving good references for future jobs as Miss Ager left the school.
Mr James, 62, now retired, was proved to have failed to follow proper child protection procedures and take appropriate action.
The hearing was told he provided good references and told one school: "Miss Ager expected high standards of behaviour and had a good working relationship with pupils.
"She would be a great asset to the school."
Mr Jones said: "He allowed the teacher to leave the school without proper investigation and then opted to provide a positive reference to another school.
"He placed other pupils at other schools in potential risk of harm - pupils who may have been more vulnerable."
Mr James was suspended from the register for three months and ordered to undergo a safeguarding course if he re-entered the profession.
Mr Powell, for the panel, said: "These incidents cannot be described as an isolated lapse. But they did occur during 18 months of a 40-year career. His conduct could have seriously affected pupils."