Cardiff and Vale health board jobs at risk in staff shake-up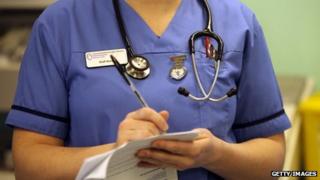 Health board bosses have been criticised over threats to axe hundreds of jobs as part of a major shake-up.
Some 385 jobs at Cardiff and Vale health board could be affected as it looks to restructure services and save £56.7m this financial year.
A 90-day consultation period has started but the health board said redundancies were a "last resort".
Unions said more savings could have been made before discussions about redundancies were required.
The health board, which has a workforce of 14,500, wants to reorganise staff as part of plans to provide services in a more "cost effective way".
Dawn Bowden, of Unison Cymru/Wales, said: "We are currently in the middle of discussions with NHS employers and the Welsh government about savings that could be made across the whole of NHS Wales, with a view to avoiding redundancy situations.
She said the health board's decision to go ahead with a redundancy process "completely cuts across and undermines" those talks.
"The health board are claiming that redundancies are a last resort after all other possibilities are exhausted and are using the excuse 'legal obligations' to force a situation that we believe is not necessary at this stage," Ms Bowden added.
The health board said the reorganisation involved "redesigning a number of services to deliver the same, or better, care in a different way".
"This includes reshaping the UHB's (university health board) workforce in line with what has been proposed," said chief executive Adam Cairns.
"Services must change to meet current and future demand and this work needs to start quickly.
"As a result UHB managers have now been asked to begin meaningful engagement with staff whose current roles may be subject to change..."
Mr Cairns said "only a small number of people" out of the total workforce were likely to face redundancy after staff redeployment was considered.
"In fact, redundancies are the very last resort for us, only to be undertaken when we have exhausted all other possibilities," he said.
'Strict guarantees'
"We understand how worrying and upsetting this news will be for many staff and we would like to reassure colleagues that the UHB will work hard to try to ensure that the majority of staff affected by service changes will be able to use their skills in alternative roles.
"Colleagues who need to change roles will be offered the necessary training and development they require to assume new responsibilities."
South Wales Central assembly member Andrew RT Davies, who is leader of the Welsh Conservatives, said he wanted "strict guarantees" that frontline services would not be compromised by any changes.
"It is important that the health board clarify at the earliest possible opportunity whether or not there will be any compulsory redundancies," he said.
"Though the fact that redundancies of any kind are being considered at all is bizarre given that we are told time and time again that the Welsh NHS is struggling to attract and retain frontline staff."
It was announced earlier this month that the Welsh government was planning to give health boards three years instead of just one year to balance their books.
Health Minister Mark Drakeford has said the plans would allow "prudent long-term decisions to be made".