Fire-hit firm Stagecraft Display back in full production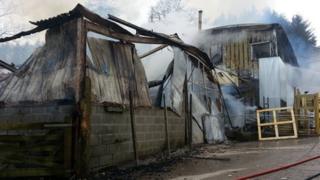 A Powys company whose factory was destroyed by a huge fire earlier this year says it is back in full production.
Stagecraft Display, which made display equipment for shops and garden centres near Newtown, lost all its machinery and ongoing work in the March blaze.
But the firm moved to temporary premises in the town and has now completed the backlog of orders destroyed in the fire.
It is not known how the fire started.
Company spokesperson David Harding said: "Everything was lost including the machinery.
"They had just invested £100,000 in new machinery at the end of last year.
"All the stock that was due to go out to customers was also lost."
The 25 staff at the plant have since been trying to catch up with the backlog of work.
"Now they have done that and they have been delivered and they're working on projects for other major companies," said Mr Harding.
"They're back on their feet."