Alps climber Ian Whitehead slipped to death, inquest told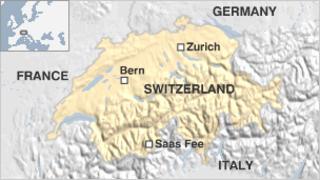 An experienced mountain instructor from north Wales fell to his death in the Swiss Alps while descending on a footpath, an inquest has heard.
Ian Whitehead, 53, of Deiniolen, Gwynedd, had reached the summit of the 14,000ft (4,200m) Nadelhorn, the hearing in Caernarfon was told.
Elliott Whitehead said his brother was ahead of him on the path down, slipped and may have fallen up to 200m (650ft).
A verdict of accidental death was recorded.
Mr Elliott told the hearing his brother was an experienced climber and instructor who was halfway through his ambition to climb all 4,000m peaks.
The pair had been on a climbing holiday and, after reaching the summit of the mountain, were making their way back down.
After stopping at a mountain refuge, they were descending via a steep footpath when rain and mist came in along with some thunder.
He said: "Ian said we had better get off the hill.
"Ian went ahead and he just disappeared into the mist. That was the last time I saw him alive."
Mr Whitehead told the hearing the footpath had been "relatively slippy".
North west Wales coroner Dewi Pritchard-Jones asked: "What do you think started the fall?"
Mr Whitehead replied: "A slip. Ian was very surefooted. He spent all his life in the mountains. It was just a case [that] he had a slip."
'Deteriorating weather'
The inquest was told that rescue helicopter was called out and a French nurse tried to resuscitate Mr Whitehead.
Recording his verdict, Mr Pritchard-Jones said :"The deteriorating weather led to rain and that leads to rocks becoming greasy. Mr Whitehead unfortunately when going down slipped.
"He fell a distance, I am not quite sure exactly how much, but I gain the impression it was a considerable distance and he hit a hard surface and suffered numerous injuries.
"The death is very unfortunate but he died doing something he loved."
The Nadelhorn is the Pennine Alps range in Switzerland near the resort of Saas-Fee.