Weed picking: Big Dee Day Invasion on north Wales rivers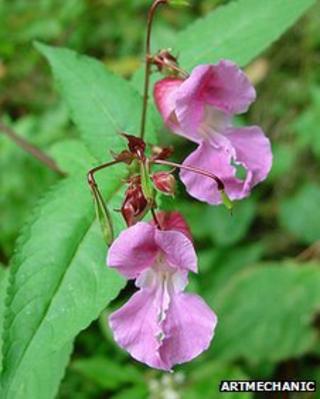 Hundreds of people are expected to turn out to help pick weeds along the River Dee and its tributaries in north Wales.
Several organisations have united to arrange their own "Dee day invasion" which is targeting non-native species like Japanese knotweed.
There are 16 separate events tackling Himalayan balsam which has shallow roots and can be easily unearthed.
The project on Friday and Saturday brings together groups and volunteers from north Wales and Cheshire.
It follows the annual Dee estuary clean-up which involves dozens of groups each September.
Events taking place including a Bala Balsam Bash in Gwynedd and a clean-up in Flint, while anglers from Wirral are holding their own work party at Carrog, near Corwen, Denbighshire.
Flood risk
Meanwhile, Ty Mawr Country Park in Wrexham is hosting an exhibition with stands and information boards about non native species.
Experts say plant life like balsam and Japanese knotweed, brought to Britain during the Victorian period, have an effect on the natural biodiversity, increasing flooding risks by eroding river banks, as well as threatening native plant and wildlife.
Chinese mitten crab are also said to be causing a problem as they breed in the Dee estuary and migrate along its tributaries where they are known to burrow into banks which can also present a flood risk.
The event is organised jointly with council countryside service teams, Snowdonia National Park Authority, wildlife trusts and Chester Zoo.
"Big Dee Day: the Invasion is a fantastic opportunity for us all to make a really positive impact on the River Dee and our local environment," said councillor Carolyn Thomas, chair of the Clwydian Range and Dee Valley Area of Outstanding Natural Beauty.