Salem painting memories on show at Gwynedd Museum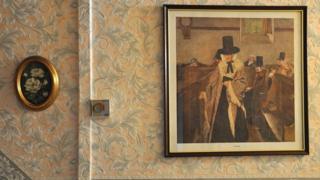 A famous painting said to feature the devil's face in a shawl has gone on display in Gwynedd.
The exhibition called Salem at the Gwynedd Museum and Art Gallery in Bangor also features memories and photographs of the painting by Sydney Curnow Vosper in Welsh homes today.
The artwork became well known after being used to market Sunlight soap.
Meanwhile plans continue to move the museum and art gallery to a new £2.6m home.
A funding decision due in mid September could see the collection relocated a few hundred yards from its present home in Bangor city centre to the Bishop's Palace, one of the city's oldest buildings.
Childhood memories
The Salem painting depicts a Sunday morning at a small Baptist chapel in Cefncymerau, Llanbedr, near Harlech and centres on Sian Owen of Ty'n y Fawnog.
Curiosity has long surrounded the picture due to the theory that the devil's face can be seen in the fold of the shawl worn by Ms Owen, although the artist always denied this was the case.
The watercolour dates back to 1908 and became popular when it was used to market Sunlight soap, with people collecting vouchers to claim a print.
The original is kept at the Lady Lever Art Gallery in Port Sunlight, Wirral, and has been lent to the Bangor gallery for the exhibition.
"The examples of the prints people have range in size, and many have said they have memories of it as a child - with some remembering being frightened by it," said curator Esther Roberts.
"I've been surprised, but also pleased, that so many people responded to the idea of sharing their pictures and memories.
"The fact so many have shows that there must be many copies of Salem remaining in Welsh homes," she said.
Ms Roberts' own copy of the painting is included in the exhibition.
"I didn't want it in my home so I keep it in my office," she said.
Pictures and memories of the painting have came in from far and wide with many prints being handed down through generations of families.
The exhibition remains at the Gwynedd Museum and Art Gallery in Bangor until 12 October, and will be added to as more pictures and memories are collected.
Museum move
Meanwhile a detailed application has been presented for Heritage Lottery Funding worth a total of £2.6m to provide a new home for the Gwynedd Museum and Gallery in the Bishop's Palace.
"It would be renovated to become an accessible museum and art gallery open to all," said a Gwynedd council spokesman.
"Educational resources and an additional art gallery will be a key aspect of the plans as well as improved facilities for visitors.
"A decision on the grant funding is expected mid-September."