Mavis Staples pulls out of Brecon Jazz Festival for health reasons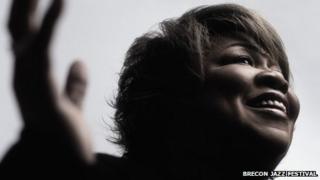 Soul star Mavis Staples has pulled out of the Brecon Jazz Festival for health reasons.
The singer is to have surgery for a "long standing condition", according to a statement released on her behalf.
The Grammy-award winning star, one of the event's headline acts, was scheduled to play the town's Market Hall on Saturday 10 August.
She said she hoped to return to Brecon and festival organisers, Orchard, said it will refund tickets.
"I'm really sorry to have to pull out of Brecon Jazz as I've heard great things about the festival and the stellar names who have graced that stage over the years," Staples said.
"It's unfortunate but I'm advised by doctors that I need surgery this summer and will be forced to miss a number of shows. Let's hope I can come back to Brecon one day in the future to entertain you all."
Orchard director Pablo Janczur said: "This news is a real shame as Mavis is an iconic figure who fits the heritage of Brecon jazz but we completely understand the reasons for her cancelling, and wish her the best in her recovery."