Work on Haverfordwest skate park finally starts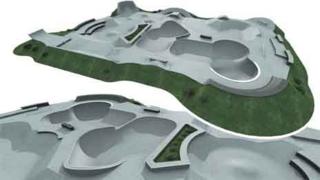 Building work is starting on a £400,000 skatepark in Haverfordwest after nearly six years of trying to get the project off the ground.
Work on the park in Picton Fields which will be roughly the size of an Olympic swimming pool is expected to take until November.
The park - Pembrokeshire's first - has won £427,000 in Big Lottery funding.
An official opening will take place next spring.
The park will have facilities for advanced skateboarders, in line skaters and bikers, as well as a section for beginners.
'Loitering'
It will have free open access seven days a week and be flood lit.
The group behind it said they were determined to get the best park possible for both local youngsters and visitors to the area as well.
Alison Turner, secretary of the Haverfordwest Skatepark Association, said the campaign to get one built began in 2007 after they received letters from police about their children "loitering in town" with their bikes but nowhere else to go.
"We went to a neighbourhood policing team meeting where skateboarders and bikers turned up as well.
"We realised there was no venue for skateboarders and bikers and the campaign began, first as a lobbying group and eventually as a registered charity and limited company."
Skate mates
The association raised more than £50,000 themselves and obtained planning permission for the skatepark before they were successful in gaining the lottery grant.
"When we looked into the tourism we found that people were looking for free to access facilities," said Ms Turner.
"And there's a big connection between surfboard - which Pembrokeshire is also known for - and skateboard as well. We think this will do a lot to bring people into the area as well as give a good facility for the locals."
In preparation for the park's opening, the association has worked with local youth workers to train up skaters, who will become "skate mates" and informally oversee the park.
Once it is built Pembrokeshire council will maintain the park which is being built on leased land.
"We've had a determination to reach the goal but we had no concept of the volume of work, the liaising and all the hoops we would have to jump through," said Ms Turner.
Skatepark association chairman Geraint Williams said Monday was a real landmark day after over six years of dedication to developing this state of the art facility.
"We are all so excited to be putting this vision into reality. Without the support of each other, our families and the local skaters and bikers along with the local community we would not have achieved our goal.
"As well as the Big Lottery Fund grant, we are truly grateful to the local businesses that have donated money or given us their services for free.
"It's a real achievement for a local voluntary group to accomplish this."