Yachtsman rescued off coast at Kenfig after sinking danger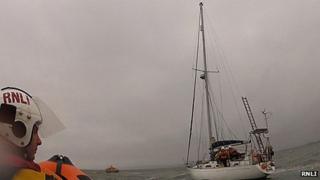 Three lifeboats and a rescue helicopter were involved in reaching a yachtsman in trouble off the south Wales coast.
A full rescue was mounted after radio contact was lost with the yacht, which was in danger of sinking after taking in a lot of water off Kenfig beach.
The RNLI found the 77-year-old yachtsman safe and well and an extra pump was winched on board by helicopter.
The 39ft yacht was towed into Swansea Marina by the Mumbles lifeboat.
Lifeboat crews from Port Talbot and Porthcawl were also involved in the operation, after the initial call to the coastguard late on Friday afternoon.
During the radio message to the coastguard, communications with the yacht were broken and the RNLI said there was a danger that the yacht had already sunk.
Volunteer helmsman Andrew Walmsley, from Porthcawl RNLI's Rose of the Shires lifeboat, said: "When on board, my RNLI crew found that there was approximately 3ft of water in the boat and immediately started pumping the water out of the yacht."