London school to restore Cardiff store founder's Victorian home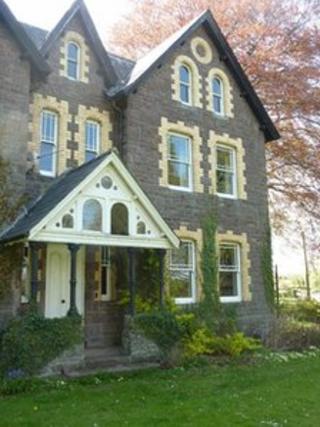 A school aims to breathe new life into the former Victorian home of David Morgan, the founder of the Cardiff department store which bore his name.
Hall School Wimbledon (HSW) intends to use the five-bedroom farmhouse near Brecon as a field centre for pupils.
The David Morgan store started life in the Welsh capital as a small drapers shop but grew to become the city's largest independent retailer.
But the family-run business closed in 2005 after 125 years.
David Morgan made his fortune in Cardiff but returned to his roots and bought the farm where his family had been tenants in the Brecon Beacons.
He built the grand Victorian residence, called Llanbrynean, in Llanfrynach in 1883 on the land overlooking the ruins of the house he had been brought up in.
Chris Hyde of estate agents Cooke & Arkwright, which oversaw the sale, said the property was more akin to the grand Victorian town houses of Cardiff than those of rural south Powys.
"He (David Morgan) built quite an ostentatious home, a grand house," said Mr Hyde.
"It's unusual for the area, beautifully constructed, it's all dressed stone with decorative roundels and window openings picked out in yellow brickwork.
"This is unusual for a farmhouse, which were working environments. The homes were built for durability, they were practical and not built to be grand centrepieces which is what Llanbrynean is."
The property, which was on the market for £1.3m, is set in 55 acres (22 hectares) of gardens, lush pasture, woodland and it has its own waterfall.
As a working farm it also has an adjoining courtyard with a traditional range of stone outbuildings, consisting of a coach house, stables and barns.
The large variety of buildings and the extensive land attracted HSW, an independent co-educational school, to purchase the three-storey home earlier this year.
Head teacher Tim Hobbs said the school planned to restore Llanbrynean and use it as a field centre for pupils.
"We have been visiting the Brecon Beacons for almost 20 years and have been looking for an opportunity to purchase property here," he said.
"Llanbrynean is the first property that fulfils all our criteria. The ethos of HSW is for pupils to learn as much as possible in the outdoors though exploration and individual investigation, alongside traditional studies. And where could be more perfect than here with the fresh Welsh air and Welsh water."
While HSW will use Llanbrynean to further the educational needs of its pupils, Mr Hobbs also hopes to develop the site for other uses.
"It's an expensive property which will require a lot of investment, so part of our request to the Brecon Beacons park authority will be converting different areas to different uses, perhaps for functions or holiday lets," he said.
The school said residential field trips formed an important part of its curriculum as it helped deliver its philosophy of learning through experience.