Llanishen reservoir campaigners' plea for talks with landowners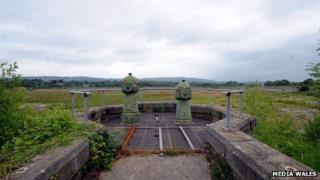 Campaigners have appealed for owners of a drained reservoir at the centre of a planning row to work with them to resolve the decade-long saga.
Earlier this year, Western Power Distribution (WPD) lost its bid to build 324 houses at Llanishen reservoir in Cardiff, emptied three years ago.
The Reservoir Action Group wants WPD to "accept defeat and enter into talks" with it.
WPD said it had written to the group but declined to comment further.
Action group Vice chairman Ceri Davies said: "We have not had any talks with WPD.
"WPD must come clean and state what their intentions are, they've clearly lost the fight."
The landowners battled for more than a decade before having its plans rejected by the Welsh government.
The reservoir has not been used for that purpose since the 1970s but campaigners say it has become a nature habitat and is also important for its engineering heritage.
They want it refilled by WPD so it can be used for sailing and as a country park.
A spokeswoman for WPD said: "We have responded to correspondence we've received but we have no further comment to make."
But Mr Davies added: "We've had an acknowledgement of that letter but just stating that they're reviewing the situation - we know no more than that.
"The reservoir should be refilled as soon as possible. Will they now accept defeat gracefully and enter into discussions?"
The action group's secretary Phil Savage said campaigners had recommended that WPD "gift" the reservoir to Cardiff.
He said: "It would be an honourable way to end the dispute."
Earlier this week, Conservative MP Oliver Letwin met campaigners at the lake and was reported in the Western Mail as saying the Department for the Environment, Food and Rural Affairs (Defra) should work with the Welsh government to resolve the issue.
Mr Savage said: "It really is marvellous he is taking an interest - to have somebody of that level to say how appalling it is - we hope WPD will listen to him."
In February 2011, the High Court in London overturned Cardiff council's decision to designate the land for nature conservation.
The council had designated the land under the National Parks and Access to the Countryside Act 1949, which gave priority to nature conservation over public access and recreation.
But the Public Health Trust Act 1875 already imposed a statutory trust over the land, giving priority to public access and recreation.