Carl Mills trial: Discarded cigarette 'did not cause fire'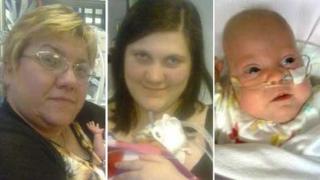 A fire which killed three members of a family was not likely to have been caused by a discarded cigarette, a forensics expert has told a jury.
Carl Mills, 28, denies murdering Kayleigh Buckley, 17, six-month-old Kimberley and her grandmother Kim, 46, at Newport Crown Court.
They died in their Cwmbran home the night Kimberley left hospital for the first time after being born early.
Two passers-by claimed they smelt petrol a few hours before the fire.
The prosecution alleges Mr Mills started the fire in the porch at the Buckleys' home at on the Coed Eva estate in Cwmbran in the early hours of 18 September 2012.
Forensic scientist Emma Wilson said both the defendant and Kayleigh smoked roll-up cigarettes.
She said: "I have not seen a roll-up cigarette [which just contains tobacco] cause or have the potential to cause a fire to start."
The court heard Ms Wilson, a fire expert, had tried to simulate starting a fire using a rolled cigarette on a number of occasions and had not been able to.
The defence had suggested that the fire could have started a while before it took hold and smouldered for some time.
However Ms Wilson said: "My conclusion is that the fire at 15 Tillsland was caused by a flame ignition with materials within the porch," she said.
Defending, Patrick Harrington QC said slow burning, smouldering fires had been started by manufactured cigarettes and people who smoked roll up cigarettes did on occasion smoke this type of cigarette.
Ms Wilson said there was no evidence that anybody within the house smoked manufactured cigarettes.
She also told the court that if a fire had been smouldering for some time in the porch before breaking out into a large blaze she would have expected to see much more evidence of soot and smoke deposits on the porch's walls.
The jury heard a smouldering fire was also only likely to develop into a larger one if the conditions changed - for example in a closed room where a window was opened allowing a sudden introduction of air.
Ms Wilson said this was not the case in the open porch where the conditions remained the same.
The court heard Mr Mills had his hands swabbed for accelerants after his arrest at the scene of the fire and his clothes tested. All the tests came back negative.
Ms Wilson said in her experience hand swabs did not generally produce results unless some liquid accelerants were still present on the surface of the hands as skin quickly absorbed materials like petrol, which did not later transfer back to a swab.
However she agreed clothing was a much better material to test.
Arguing
The court heard pre-recorded video evidence from a 12-year-old girl, who said in interview that she and her mother had smelt petrol as they walked past the tent Carl Mills had been staying in outside Kayleigh's house.
They had been to a friend's house the evening leading up to the fire and had been dropped off near Tillsland at about 23:00 BST.
She said they came along a short alley and out by the Buckleys' house.
She said: "We saw a tent. Then we saw the house and there was a garden in front of it. There was something in the tent moving there.
"We thought it was teenagers but afterwards we found out it was the man."
She continued: "My mum mentioned in to me. She said, 'it smells a bit funny doesn't it?' and I said, 'yes, it smells like petrol'."
Asked by the interviewer, the girl explained explained: "When you go to the petrol station and you fill up the car, it smells like that."
Cross examining by video link, Mr Harrington asked: "Could you tell where (the smell) was coming from?"
She replied: "No, it just smelled like petrol."
The child's mother told the court her daughter had asked her if she could smell something.
She said: "I recognised the smell as petrol but because the taxi had just driven up the road I assumed it was that. It was just as we'd gone past the house and we're more or less level with the tent."
She added it was a windy night so it made it more difficult to tell where the smell was coming from.
Mr Harrington asked her if she first got the smell of petrol as she walked along the short alleyway leading from where they were dropped off to Kayleigh's house, and she agreed she did.
A 15-year-old girl told the court she had seen Kayleigh and Mr Mills, whom she referred to as Kayleigh's boyfriend, at about 16:30 BST on Monday 17 September as she walked to a shop near Kayleigh's home.
In a recorded interview she said they were arguing, adding: "[Kayleigh] looked quite upset, like she wasn't smiling or anything like her normal self."
The girl was out with three friends later sitting in a place known as the Rock on the edge of a field in Coed Eva which gave a line of sight to Kayleigh's home.
They saw her leave her house at about 21:00, apparently wearing pyjamas, and head towards the shop.
Half an hour later, the group saw Kayleigh return to her house.
The girl said: "She kept looking behind her and looked really on edge and a little bit upset." She added Kayleigh had her hand to her ear as if she was using a mobile phone.
"The way she kept looking behind her was as if something was coming. She was walking quite fast."
The trial continues.