Adult and child found dead at house in Merthyr Tydfil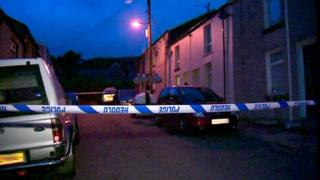 An adult and child have been found dead at a house in a village near Merthyr Tydfil, say police.
Officers were called to an address at Church Street in the village of Troedyrhiw, at 16:20 BST, where the adult and child were found dead.
Police are currently at the scene, which has been cordoned off, and house-to-house inquiries are being carried out in the area.
South Wales Police released a brief statement confirming the incident.
But they said there was no further information available at the moment.
Local councillor Gareth Lewis said he did not yet know much about the incident but said he had read on social media that the area was "swarming with police".
He said Troedyrhiw was a traditional, close-knit valleys community, "where people look out for each other".
"They will be very much in shock about this," he said.
"It's very sad news and I'm struggling to comprehend it."
Councillor Harvey Jones, who represents the Plymouth ward on Merthyr Tydfil council which includes Troedyrhiw, said he too was shocked to hear news of the deaths.
"Troedyrhiw is a very respectable area," added Mr Jones, who is also the council's cabinet member for schools.
"No doubt everyone in the community and in the wider part of the borough will be shocked by this. It's very sad news."