MMR jab plea despite end of Swansea measles epidemic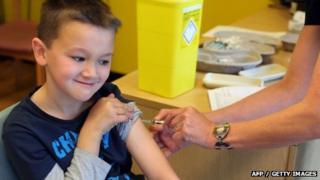 A plea for people who have not yet received the MMR jab has been made despite the measles epidemic centred on the Swansea area being declared over.
On Wednesday health experts said the epidemic was over after thousands of people were immunised.
During the epidemic, one person died and 1,219 measles cases were diagnosed.
But experts are pleading for people to ensure they get two doses of the jab to protect against measles, mumps or rubella.
There have been no laboratory-confirmed cases linked to the outbreak area since 22 May, Public Health Wales (PHW) said.
But PHW has warned that with 30,000 children in the 10 to 18 years age group still unvaccinated across Wales, there was still a possibility of a further outbreak.
As well as thousands of MMR jabs being administered to people in the epidemic zone, neighbouring areas in west Wales have been issuing thousands of MMR jabs since November.
More than 7,500 doses of MMR have been given across Carmarthenshire, Pembrokeshire and Ceredigion over the last eight months.
Teresa Owen, director of public health at Hywel Dda Health Board, said: "The challenge now is to ensure uptake of the MMR remains high so we don't find ourselves in the same predicament a few years down the line.
"We're pleased to report that GP practices are still delivering higher numbers of MMR vaccine compared to last year. We hope that this is a sign that people realise these diseases, which we may think are in the past, can still affect us today. It is everyone's responsibility to protect themselves and the community if we are to prevent another outbreak in future."
Never too late
The first dose of MMR should be given at around 12-13 months of age and the second at around three years and four months of age - but it is never too late to catch up on missed doses, say health officials.
PHW advises that anyone born in 1970 or later who has not had measles or two doses of MMR should be vaccinated.
Any babies younger than 12 months who were advised to receive early vaccination as a result of the outbreak will still be called for routine vaccination and should still attend these appointments.
On Monday, an inquest heard that Gareth Colfer-Williams, 25, died from pneumonia after contracting measles during the Swansea outbreak.
He was found dead on his sofa in his flat in the city on 18 April, days after seeing GPs and complaining of a rash all over his body.