ITV Wales studios: Decision on 250 homes at Culverhouse Cross site deferred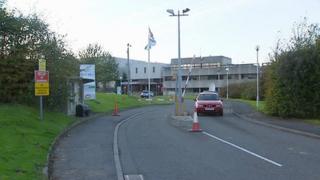 Plans to demolish the ITV Wales studios at Culverhouse Cross near Cardiff and build about 250 homes on the site have been deferred.
Vale of Glamorgan council's planning committee had been recommended to agree to the redevelopment of the site covering 7.69 hectares.
But after a site visit on Thursday, they delayed a decision for further consultation.
A mix of houses and apartments are proposed.
Property consultant Lambert Smith Hampton, which is acting for ITV, told the council in a letter in April that space in the building had been marketed over the past seven years, but demand and take-up had been "weak".
ITV has been at Culverhouse Cross since 1984. Lambert Smith Hampton said a main driving force behind ITV's relocation was that the projected running cost of a new site was "substantially lower" than at Culverhouse Cross.
'Best offers'
But it said the longer-term delivery of ITV services in Wales was of equal or more importance.
With its licence renewed until 2024, ITV had to invest in up-to-date facilities and the letter said that "for many of the reasons above it is not commercially viable for ITV to do so within the existing premises".
It added: "In conclusion, ITV made an operational decision some time ago that the building is no longer fit for purpose and has therefore made the decision to close the site."
Lambert Smith Hampton said it was seeking "best offers" from other sites, with ITV planning to go on air from its new home on St David's Day 2014.
ITV's shortlist of potential sites has been reported to include Cardiff Bay and Cardiff Gate International Business Park.
Before the planning committee met, a spokesman for the channel said: "We are looking at a number of options for ITV Wales Cymru's new presence in Cardiff and we have not made any decision.
"Once a decision is made our priority will be to inform our colleagues and also give our tenants significant notice to allow them to relocate. Subject to Ofcom approval, licence renewal would guarantee ITV's presence in Wales into the mid-2020s.
"We want to ensure that we will be in a fit for purpose building that will allow us to deliver to our audiences the best possible service at a sustainable and affordable cost."