Wrexham crime perception action call after murder and fight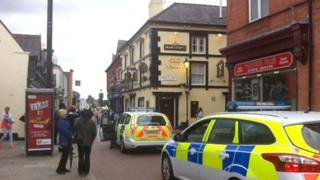 Police investigating a murder and separate brawl in Wrexham within a week say they should not alter people's perception of safety in the town.
Police introduced "reassurance patrols" after a man died at the Cambrian Vaults on 6 June.
And last Wednesday officers were called to a fight involving up to 20 people outside the nearby Old Vaults.
Meanwhile, residents have set up a group seeking positive changes in the town and are to meet council officials.
Almost 2,000 people have joined a Facebook group called Change Wrexham For Our Future within the last week.
And a representative is due to raise questions with Wrexham council's executive committee on Tuesday asking what steps are being taken to reduce crime and improve people's perception of the town.
In an unrelated development, the committee is also due to hear plans to secure £30m to regenerate the town centre and neighbouring Hightown and Caia Park communities.
Teacher Beth Bennett, a mother of three, who helped to set up the group, said she wants to know not just that her children will be safe growing up in Wrexham but that they will be "proud to say they come from Wrexham".
Ch Insp Neil Maxwell from North Wales Police said incidents "stand out far more" in Wrexham than they would in a high crime area.
"I do though appreciate how much of an impact individual incidents can have and how these can give the impression that crime is higher than it really is," he said.
"Part of the reason such incidents have a significant impact on perception of crime is because when they happen in Wrexham it's against a back drop of low crime.
"The simple facts are that Wrexham crime rates are low and serious incidents are rare."
Wrexham's Community Safety Partnership - which includes police, the council and other local groups - has just released figures showing violent crime has fallen by 6.7% compared to this time last year.
Mrs Bennett said she has been amazed by the support for the Facebook group with other residents proposing a range of ideas to change a negative perception of the town.
These include tidying up empty shops with residents themselves offering to paint them as well as hosting a community fun day in August to unite residents.
Mrs Bennett's mother, retired Wrexham teacher Valmai Wyn Jones, is due to address the council board afternoon meeting on Tuesday.
A man is facing trial for murder after Craig Maddocks, 34, from Llay, was found dead at the Cambrian Vaults in June.
Days later, in a separate incident, police arrested two people on suspicion of public order offences during a disturbance by the Old Vaults in Chester Street in which an imitation firearm was seized.