Anglesey rugby pitch now home to 150,000 rare orchids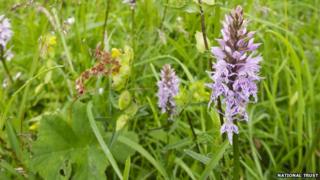 An Anglesey meadow which until recently was a rugby pitch for naval cadets is now home to over 150,000 rare orchids, according to a National Trust survey.
The 4.5 hectare (11 acre) field on the Plas Newydd Estate was allowed to return to its natural state as part of the Coronation Meadowland project headed by the Prince of Wales.
It marked the 60th anniversary of the Queen's ascent to the throne.
Trust experts think some orchids were already on the site during sports use.
But they feel they had never been given the chance to flower owing to the regular grass cutting required for rugby matches.
The trust's nature conservation advisor Helen Buckingham says the sheer variety of plants found in the first annual survey of the site was staggering.
"Until 2007 there was a scattering of the common spotted orchids, northern marsh orchids and hybrids on the meadow," she said.
"Orchids hybridise easily so it's difficult to identify them when they grow en masse like this.
"But there are now so many of them. Orchids like soils that are low in nutrients. By us cropping for hay and not adding fertiliser we have reduced the fertility allowing the orchids to thrive.
"They also like the fact that there is no spring grazing, as sheep find them tasty. And cutting late in the summer ensures that they have already flowered and released their seed."
Rare butterflies
As well as their own environmental significance, the orchids have also attracted back to the island rare species of bees and butterflies which haven't been seen on Anglesey for many years.
And according to Ms Buckingham, the project has been such a success that cuttings are now being used to initiate similar wildernesses elsewhere.
"The excellent management at the meadow provides the opportunity to use the seed and hay from this meadow to help restore other meadows," she said.
"At 4.5 hectares [11 acres] this is a big area of wonderful semi-natural hay meadow. We only own about 170 ha [420 acres] of this quality of meadow in Wales, out of our 5,000 ha [12,500 acres]."