Malala friends given scholarships to Atlantic College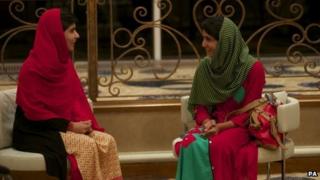 Two Pakistani teenagers shot by the Taliban while travelling with their friend Malala Yousafzai have been given scholarships at an international school in Wales.
Shazia Ramzan and her friend Kainat Riaz will take up places at Atlantic College, Vale of Glamorgan.
They were caught in crossfire last October when a gunman shot education campaigner Malala after school.
Malala was offered a scholarship but is continuing her studies elsewhere.
Shazia and Kainat were were sitting alongside Malala when she was shot last October in an assassination attack.
Malala was flown to Britain where she underwent surgery at Queen Elizabeth Hospital, Birmingham, which specialises in the treatment of military personnel injured in conflict.
Her friend Shazia was hit in the shoulder and hand, later undergoing surgery in Pakistan and spending nearly a month recuperating in hospital, while Kainat was hit in the upper right arm.
In January, Malala was released from hospital and and in March started going to Edgbaston High School for girls.
Atlantic College is a residential sixth form college which brings together students from around the world.
Principal John Walmsley said staff wanted to help after hearing about Malala and her two friends and because of the blog Malala had written about the importance of education for girls.
"Our mission - since our founding in 1962 by Kurt Hahn - is to make education a force to unite people, nations and cultures for peace and a sustainable future," he said.
"We have students from over 90 nationalities, with 55% of our students supported by scholarships.
"We deliberately encourage diversity whether by nation, religion, culture or socio-economic background.
"Through the generosity of a donor we have been able to offer all three girls a scholarship at the college."
He added Shazia is set to start at the college in August and they look forward to Kainat joining her soon, while Malala continues her recuperation and education elsewhere.
Atlantic College's estate near Llantwit Major includes the 12th Century St Donat's castle and was once the former home of American newspaper magnate William Randolph Hearst.
Willem-Alexander, the new king of the Netherlands, was once a student there.
Students at the college study towards an International Baccalaureate which is combined with a co-curricular community service activities